Network Rail bonuses approved despite controversy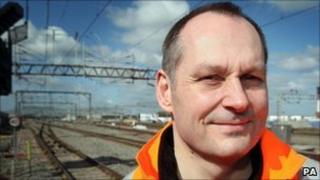 Controversial six-figure bonuses for Network Rail bosses have been approved, despite criticism from the prime minister and unions.
Members of the not-for-profit company's ruling body voted in favour of the pay package by 37 votes to 31, with nine abstentions.
Outgoing chief executive Iain Coucher will get £641,000.
David Cameron's office reiterated his deep disappointment at the decision, while union bosses were scathing.
"The Prime Minister said at the time that he was deeply disappointed," said a spokeswoman for Number 10.
"Now, clearly, they have voted for those bonuses, and his view remains the same."
'Complete contempt'
Transport secretary Philip Hammond had previously written to the rail infrastructure company, calling on them to exercise pay restraint.
Although Network Rail is technically a private company, it does not pay any dividends and is subsidised by the government.
The company's ruling body comprises two sets of members: representatives of train operators and other railway companies, and "public" members appointed from the wider stakeholder community.
"The public members have inflicted a moral defeat on Iain Coucher and his cronies, with fewer than half of them actually voting in favour of these outrageous bonuses," said Gerry Doherty, head of the TSSA union.
"Unfortunately these people have no concept of public morality or service. Their snouts are so deep in the trough that they treat the taxpayer and passenger with complete comtempt."
Mr Doherty's union arranged a protest in which they wore kilts and played bagpipes, lampooning Mr Coucher, who owns property in Scotland.
"Today's meeting has been one of healthy debate where Network Rail's shareholders - called members - have held the board to account demonstrating the value of their role," said the company's chairman, Rick Haythornthwaite, following the meeting.