Art price rises 'driven by high-value deals'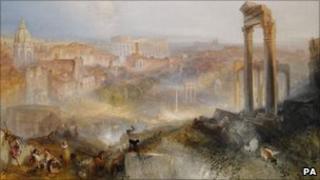 High-value deals are continuing to drive up the price of arts and antiques, according to a survey.
The art market was "buoyant" despite tough economic times, said the Royal Institution of Chartered Surveyors.
The proportion of surveyors reporting price rises in the £50,000-plus bracket doubled in the second quarter of the year compared with the first three months of 2010.
Silver and jewellery remain the most popular sectors, the survey found.
Poll
The Arts and Antiques Survey also recorded a rising proportion of surveyors reporting price rises for works priced at between £5,000 and £50,000.
More surveyors also said prices for art costing between £1,000 and £5,000 were rising than the number who said prices were falling. However, the proportion had dropped compared with the first three months of 2010.
All sectors of the market - with the exception of ceramics - witnessed rising prices, with growing precious metal values pushing up the value of silver and jewellery.
There was a noticeable trend of rising values of watches, priced up to £1,000.
Valuers are predicting the trend could continue, with demand outstripping supply as buyers look to protect wealth when faced with increasing inflation and taxes.
"The results show buyers are placing a premium on the very best material often due to its relatively low availability," said Rics spokesman Andrew Davies.
"Recent aristocratic sales have highlighted this trend, revealing the investors who are willing to pay large sums for museum quality items. However it is worth remembering the broader mid-portion of the market often presents a more mixed picture.
"Given the uncertain economic future it is of little surprise that buyers continue to invest in more traditional safe categories, such as precious metals and jewellery. However, we are noting a resurgent interest in oriental ceramics and works of art, particularly from middle and far eastern investors."
Recent sales
Auctions in July produced some headline-grabbing sales.
A hand-coloured image of Edvard Munch's Madonna was sold for £1.25m, making it the most expensive print to be sold in the UK.
Joseph Mallord William Turner's Modern Rome - Campo Vaccino, fetched nearly £30m at Sotheby's in London, a new auction record for the British master.
And a "blue period" Picasso fetched £34.7m at Christie's in London.