Mozambique gambles on trade super highway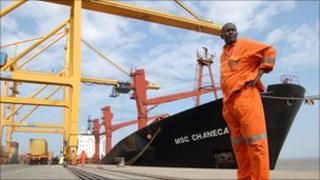 At the port of Beira, halfway up the coast of Mozambique, they are working hard to make sure the country is open to the rest of the world.
The port is busy: millions of tonnes of goods - everything from coal and aluminium to grain and clothing - pass through here.
The cargo ships waiting dockside are the final link in a chain of what is known as the Beira Corridor.
It is a huge rail transport and infrastructure project designed to create nothing short of a trade super highway.
More than 100km (62 miles) long - taking in the coal-rich region of Tete in Mozambique's north west and even stretching as far as the border with Zimbabwe - it all links to the port in Beira.
'Certain concerns'
Yet despite efforts to forge a seamless trading corridor, Beira is only operating at 40% capacity.
Work to deepen the port and therefore attract bigger vessels will soon get underway.
But Carlos Mesquita, executive director of port operator Cornelder, says that it will take more than that to boost its trading capacity.
"We need to look at the inland logistics more thoroughly. There are still certain concerns.
"We need to sit and discuss how we can better integrate the full system."
Rail link
The port also sends and receives goods by rail.
So the Beira corridor project aims to upgrade all major rail freight routes.
That is especially important when it comes to bringing coal on the long journey from Tete to the port and out to the rest of the world.
Jennifer Garvey of mining company Riversdale says that improving the track is not as simple as it seems.
"Coal is a bulk commodity and it weighs quite a bit and requires a lot of space," she says.
"The rail line has to have specific characteristics to be able to transport the coal. All that is now being developed."
Mega projects
Critics worry that the Beira Corridor will only benefit mega projects - like the coal companies of Tete.
Not so, says Chinguane Mabote, of Mozambique's Ministry of Transport.
"This is a natural fear," he says. "When you talk about big enterprises you think it's going to take over everything.
"But there is care given by the government to fulfilling its role of social responsibility as well as facilitating transport and trade and encouraging investment, no matter how small."
At the port, work loading and unloading ships continues.
The hope is that a smooth-running transport system will make Beira a much busier cargo hub - and one that can play a full part in boosting Mozambique's economy.
For more on the economy of Mozambique and business stories all over Africa watch Africa Business Report on BBC World News this weekend: on Saturday, 24 July at 0430 GMT and 1730 GMT and on Sunday, 25 July at 1030 GMT and 2330 GMT.