RBS business in $7.6bn jet order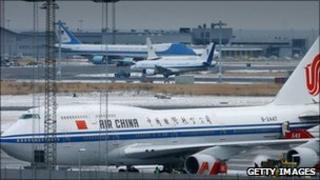 A business that is part of Royal Bank of Scotland has announced it is ordering 95 Boeing and Airbus jets worth $7.6bn (£5bn).
RBS Aviation Capital leases planes to airlines and also offers finance to the industry.
At the Farnborough air show, it confirmed it had made orders for 52 Airbus A320 planes and 43 Boeing 737s.
RBS Aviation Capital is the world's fourth-largest aircraft leasing company.
Its clients include some of the world's largest airlines, including Qantas, Lufthansa and Virgin Atlantic, and several carriers in countries such as China.
'Successful business'
RBS, which is 84%-owned by the UK taxpayer, is understood to have been looking to sell the aviation business as part of an attempt to raise cash by selling non-core assets. However, these plans are currently on hold.
Plane buyers often ask not to be identified when placing orders with Airbus and Boeing, preferring to wait for a big show to make their deals public.
RBS Aviation Capital's chief executive, Peter Barrett, welcomed the announcement of the orders, which were placed some time ago.
He added that Airbus and Boeing planes had been instrumental in creating "a highly successful global business" that had "pioneered the strategy of owning and leasing narrowbody, commodity aircraft types that are liquid, investor-friendly and easily tradeable".
Among the other deals announced on Wednesday, Canadian plane manufacturer Bombardier said Qantas had ordered seven Q400 turboprop planes worth $218m, while it had also received orders from luxury carrier Vistajet, Qatar Airways and an undisclosed Russian customer.
Meanwhile Airbus said that Thai Airways had committed to buying seven A330-300s worth $1.48bn.