EU challenges WTO ruling on Airbus subsidies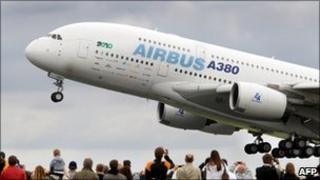 The EU is to challenge a World Trade Organization (WTO) ruling that it paid illegal subsidies to aircraft giant Airbus.
The US lodged a complaint with the WTO six years ago, but the decision was only made public last month.
The EU said that while "a significant number of US claims" had been rejected, other aspects of the report needed "to be corrected or clarified".
It has already complained over the US's alleged support of Airbus rival Boeing.
'Too important'
Brussels said its appeal would include challenging the finding that support for the A380 plane was an export subsidy and therefore illegal.
It added it would also contest the ruling that there had been a causal link between support to Airbus and adverse effects to Boeing.
"This dispute is too important to allow the legal misinterpretations of the panel to go unchallenged," the EU said.
"What is more, not appealing would allow for an unhelpful precedent for the WTO membership as a whole."
The US called last month's the WTO's decision "a landmark victory".
The WTO report found European governments had unfairly financed Airbus through risk-free loans, and research and infrastructure funding.
But it said support for Airbus was not found to have affected jobs or profits in the US aircraft industry.
And Airbus said that the support system itself - based on loans repaid as planes are sold - had not been faulted.
'Frustration'
Speaking to the BBC at the Farnborough airshow, the chief executive of Boeing Commercial Airplanes, Jim Albaugh, said that the company did not mind competition, but wanted to compete on a "level playing field".
"We pay for those airplanes ourselves and we expect others to also do that," Mr Albaugh said.
Meanwhile, Louis Gallois, chief executive of Airbus parent firm EADS, complained of "frustration" that the WTO's report into US government funding received by Boeing had been delayed.
"We want to have the report," he told the BBC.