Pensions: Is your scheme affected by the switch to CPI?
Money Talk by Mark Duke
Towers Watson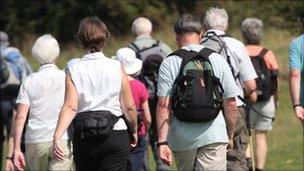 George Osborne's Budget announced that payments to retired public servants will now rise with inflation measured by the Consumer Prices Index (CPI) rather than the Retail Prices Index (RPI).
The CPI includes different things: spending by pensioners who get most of their income from state benefits is in, while council tax and mortgage payments are out.
This has usually pushed CPI inflation below RPI inflation, but it can have the opposite effect when interest rates and house prices are falling.
The CPI also makes price increases look smaller because it takes account of how we switch to alternative products to avoid them.
On average, you might expect CPI inflation to be roughly 0.5% to 0.75% a year below RPI inflation, but the gap is forecast to be bigger in each of the next five years.
For a pensioner currently receiving £10,000 a year, this means a pension of £11,400 rather than £12,200 in 2016.
The coalition government always said the public sector would have to offer less generous pensions in future, but insisted that promises made to date would be honoured. The inflation switch came as a surprise because it unpicks the pensions people were already expecting.
Is the government outrageously reneging on assurances made in return for work already carried out? Or, as the government would argue, is CPI just a better way of measuring inflation?
Whatever the rights and wrongs, it means lower pension increases in the short term and, for the government, a welcome contribution to cutting the deficit.
Having said it would pay its pensioners less than they had been led to expect, the government needed to decide whether to let companies do the same.
Steve Webb, the pensions minister, appeared to give the green light when he declared: "It is right to use the same index in determining increases for all occupational pensions". However, on reflection, he may by now realise that "all" was an overstatement
Let us start where Mr Webb has been clearest.
The government will now use CPI inflation to calculate "revaluation orders". These are the numbers most schemes use to ensure a final salary pension keeps pace with inflation between the time a member leaves their job and retirement.
If this gap is big and mostly ahead of you, you have probably lost money.
Once pensions are actually being paid out, things become more complicated.
Until 1997, employers could provide final-salary pensions which would not increase with the cost of living once in payment. When employers were forced to apply inflation protection to new pension promises, they were offered two ways of doing this.
The first option was simply to define pension increases by reference to whatever minimum rate the law required. If your employer took this route, part, maybe all, of your pension will now go up with CPI inflation after retirement. If you are already receiving a pension you will be affected by this change next year.
Instead of referring to "whatever is the legal minimum", some schemes chose to write the pension increase formula into their rules.
Most companies which voluntarily provided pension increases before 1997 complied in this way, so they could continue what they were doing already.
Even when the legal minimum becomes CPI-based, pensioners in these schemes are likely to remain entitled to RPI-linked increases as long as the rules themselves refer to RPI.
Depending on precisely how the law changes, there is even a chance that some pensioners could become entitled to an increase based on whichever measure of inflation is highest. If we returned to the conditions seen in 2009 and much of the early 1990s, when CPI inflation was the higher of the two, pensioners would then be entitled to more money at their former employers' expense.
In these cases, can employers just rewrite their scheme rules and say pensions will now be based on CPI inflation instead?
Almost certainly not: rule changes that cut existing pension entitlements are not allowed. Even if the Government grants an exemption to this restriction, the trustees who would have to approve the change might well refuse if they felt it was against members' interests.
Ministers must therefore choose between two options. They could empower employers to force through pension cuts against trustees' wishes, or they could find they have cut the pension costs of some companies but not their competitors. They have not said which they prefer.
The Treasury says pensions should rise with CPI because the exclusion of mortgage costs makes it a "more appropriate measure" of the inflation pensioners experience.
But the government is simultaneously looking to add housing costs into CPI. By its own logic, that would make CPI a less appropriate measure of the prices pensioners pay for goods and services.
An important reminder that the answer to the question "what is the rate of inflation?" is: whatever the Government decides!
The opinions expressed are those of the author and are not held by the BBC unless specifically stated. The material is for general information only and does not constitute investment, tax, legal or other form of advice. You should not rely on this information to make (or refrain from making) any decisions. Links to external sites are for information only and do not constitute endorsement. Always obtain independent, professional advice for your own particular situation.
Related Internet Links
The BBC is not responsible for the content of external sites.