England sponsorship deal ended by Nationwide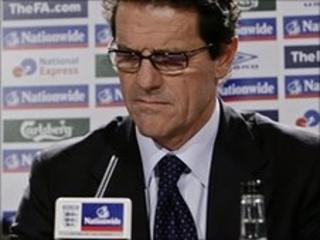 Building society Nationwide has confirmed it is to end its sponsorship of the England football team.
The move had been expected for a number of weeks, and brings an 11-season association to an end.
Its sponsorship deals with the Wales, Northern Ireland and Scotland squads will also halt at the end of July.
The FA must find a new partner before a friendly with Hungary at Wembley on 11 August, and the other associations must also secure new deals.
England were beaten in the first knock-out stage of the World Cup in South Africa with a 4-1 defeat to Germany.
Expiry
A year ago, Nationwide had tabled a £20m offer to extend the partnership for another four years, but this had been turned down by the Football Association (FA).
When it turned down the Nationwide offer, the FA was said to be reasonably confident of England making more of an impact in the World Cup and held out in the hope of attracting a more lucrative offer.
In a statement, Nationwide's head of sponsorship, Chris Hull, said: "I can confirm that Nationwide Building Society will not be renewing its England team sponsorship with The Football Association after the current agreement expires at the end of July 2010."
A number of Nationwide's 15 million members were unsure whether a large amount of money should be put into a sponsorship contract at a time of economic uncertainty.
Over the past decade the building society has also been a sponsor of the three divisions of the Nationwide League and an official partner of the FA Cup.
Nationwide also spent a period as the sponsor of the Conference, the top tier of the non-league football structure.
TV deals
"Nationwide has been involved with football sponsorship for over a decade and after a fruitful 11-year relationship with the Football Association, the organisation is currently re-focusing its marketing priorities," it said.
Last year the FA also lost a major TV partner when satellite broadcaster Setanta went bust.
ITV, ESPN and BSkyB stepped in to take over various FA TV packages, but the association will now not want to be without a sponsor for long.
Nationwide's sponsorship with England included branding on all training kit and tickets, backdrops during press conferences and signs at home games and training sessions.