Delta Air Lines posts 'best results in a decade'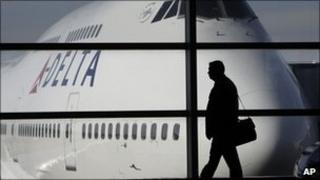 Delta Air Lines has reported its best quarterly results for a decade as the airline industry continues to recover from the global downturn.
Net profit for the three months to the end of June came in at $467m (£306m), compared with a loss of $257m for the same period a year earlier.
Revenue was $8.2bn compared with $7bn a year ago.
The airline said it expected revenue to continue to grow as the global economy continued to recover.
Profit share
"Delta's profit this quarter is our best result in a decade and proof that our plan has positioned us well as the economy begins its recovery," said Richard Anderson, Delta's chief executive.
The return to profit was achieved despite a rise in operating expenses over the quarter of $317m, partly due to higher fuel costs.
Passenger revenue increased by 19%, or $1.1bn, while cargo revenue rose by 22%, or $38m.
Mr Anderson also said the airline would be sharing its improved fortunes with its employees with a $90m profit sharing scheme.
Global airlines suffered greatly during the downturn, when passenger numbers fell dramatically. They are now benefiting as business and leisure travellers return to the skies.