Hungarian forint falls on IMF concerns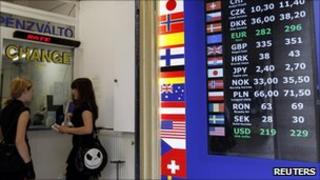 The Hungarian forint has fallen against the euro after the International Monetary Fund (IMF) said the country had to do more to cut its deficit.
The currency fell by 9 forints, more than 3%, against the euro, to 291.38 forints. Shares on the Budapest Stock Exchange also fell by almost 3%.
On Sunday, the IMF said Hungary had made progress towards sustained recovery, but needed to do more.
This has raised doubts about existing IMF loan arrangements with Hungary.
In October 2008, the country was granted a $25bn (£16.4bn) rescue package by the IMF, the EU and the World Bank, intended to help it cope with the global financial crisis.
Deficit targets
"The Hungarian authorities have made good progress in helping their economy recover through prudent macroeconomic policies and strengthened financial sector policies," an IMF statement said.
"At the same time, more remains to be done to cement these gains and put Hungary on a strong and sustainable growth path."
Specifically, the IMF said additional measures were needed for Hungary to achieve its deficit target of 3.8% of GDP this year and 3% of GDP in 2011.
These should include restructuring state-owned companies to make them less costly.
The IMF had been in Hungary on a two-week mission to assess the country's economic progress after the 2008 loan deal.
Cost of borrowing
Analysts said the government did not need to draw on existing loan arrangements, so the IMF's comments would have little direct impact on Hungary's debt repayments.
"We believe the weekend development is more negative for sentiment as opposed to actual financing difficulties, given already drawn IMF funding and decent excess liquidity in the local banking sector," said Unicredit bank.
However, others said there would be indirect consequences.
"Yields on Hungarian government debt will rise, making it more expensive for the authorities to borrow," said Timothy Ash at Royal Bank of Scotland.