Inflation-linked savings certificates cut by NS&I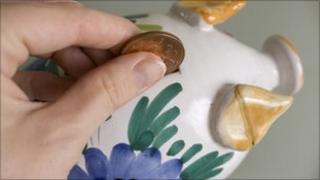 Savings products linked to the inflation rate have been withdrawn from the market by National Savings and Investments after proving too popular.
Index-linked savings certificates were withdrawn from sale by NS&I at the start of the day because sales "far exceeded" the level anticipated.
Some savers have been attracted to products with interest linked to inflation because other rates are low.
NS&I said it had also withdrawn fixed-interest certificates.
The interest paid on Direct Saver and Income Bonds has also been cut by 0.25% with immediate effect by NS&I.
Building societies are likely to welcome the move as it removes a strand of competition from the market.
Returns
The move will reduce choice for savers who have had few options during recent times of low interest rates.
"With savings rates at painfully low levels, it is no surprise that savers have been attracted to potentially higher returns in the form of index-linked savings certificates," said Andrew Hagger, of financial website Moneynet.
"No one knows what will happen to [inflation measure] RPI in the future, so it is not possible to say whether index-linked savings certificates will turn out to be a good investment, however at least you knew that you would always maintain the spending power of your savings.
"It is another door slammed in the face of savers who now have fewer options as they desperately seek a decent return on their nest egg."
There are currently 587,000 holders of NS&I index-linked savings certificates, and 866,000 have fixed-interest savings certificates. People could save a minimum of £100 and a maximum of £15,000.
With the Retail Prices Index (RPI) being high, the level of interest in index-linked savings certificates has shot up in the first few months of the year, the group said. Latest figures show RPI was at 5% in May.
It has withdrawn both products from the market for new customers and has not set a date for when they might be offered again.
Rules
NS&I, which is backed by the government, works under rules that state that it must not dominate the savings and investments market.
The latest decision was made because sales of these products "far exceeded those either anticipated or required by NS&I".
"NS&I has a unique position at the heart of the UK savings sector and we continue to follow a policy of acting transparently and balancing the interests of our savers, the taxpayer and the stability of the wider financial services market," said chief executive Jane Platt.
"The volume of sales over the past few months is such that our forecasts show we were at risk of exceeding the top end of the range, so we needed to take action to reduce sales."
The group's website and call centres stopped selling savings certificates from midnight, and Post Office counter sales of these products have also been suspended.
Postal applications posted before the announcement and received on Monday would be honoured, NS&I said, but all postal applications received from Tuesday would be returned to the customer.
On maturity, existing savings certificate customers can continue to roll over their investment on the same terms they currently hold.
They can also reinvest into any of the savings certificate terms and issues - either the three or five-year issue of index-linked savings certificates or the two or five-year issue of fixed-interest savings certificates - regardless of which savings certificate they currently hold.
But customers who have invested in other NS&I products would not be able to reinvest their money into savings certificates, the group added.