AIG appoints ex-Pru boss to run AIA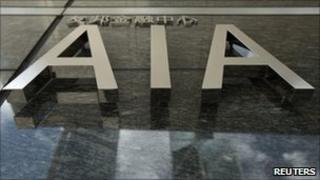 US insurer AIG has named former Prudential boss Mark Tucker as head of its Asian operation, AIA.
The move comes six weeks after Prudential failed in a controversial bid to buy AIA.
The UK insurer had agreed to buy AIA for $35.5bn (£23.2bn), but asked for the price to be cut after shareholder opposition. AIG refused a lower bid.
AIG also announced that it would seek a public listing for AIA on the Hong Kong stock market in order to raise capital.
Mr Tucker will replace Mark Wilson, who was reportedly against the Prudential deal.
"Mark Tucker has the public company experience, track record and relationships that will help us accomplish our ambitious goals of not just taking [AIA public], but creating Asia's pre-eminent, publicly-traded insurance company," said Robert Benmosche, AIG's chief executive.
AIG was hit hard during the financial crisis and, following a massive bail-out by the US Treasury, is now 80%-owned by the government.
Last week, it agreed to pay $725m to settle a long-running fraud case against it.