Unite and Prospect unions to ballot BAA airport staff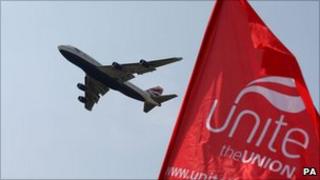 Unions are to ballot more than 6,000 members about possible strike action at BAA's six UK airports in a dispute over pay.
The decision by Unite and Prospect to ballot follows negotiations over what Unite said was BAA's 1% pay offer, plus the possibility of 0.5% more.
Unite's Brendan Gold said BAA staff accepted a pay freeze in 2009 and described the 2010 offer as "paltry".
BAA, owned by Spain's Ferrovial, said it was "disappointed" by the move.
Additionally, the PCS union says it intends to ballot around 400 members on action short of a strike.
BAA operates Heathrow and Stansted airports in the London area, as well as Glasgow, Aberdeen, Edinburgh and Southampton airports.
In addition to the 1% offer, Unite said BAA was offering an extra 0.5% if the union agreed to changes to the company's sickness agreement.
Staff were also to get a bonus if BAA met certain financial targets, though these were missed, Mr Gold said.
"BAA missed its earnings target by a tiny 3% and the company has still refused to give its staff any financial recognition for coming so close," he said.
'Unnecessary concern'
BAA said in a statement: "During recent discussions with Unite, we proposed a conditional 1.5% pay increase.
"We believe this to be a reasonable offer at a time when BAA and its airline customers are seeing a decline in passengers due to the impacts of recession and volcanic ash.
"We regret Unite's decision, which will cause unnecessary concern for millions of our passengers and damage Britain's reputation around the world."
The strike ballot among Unite's 6,185 BAA members will open on 23 July and close on 12 August.
Unite is currently also in a dispute with British Airways, but has postponed a strike ballot in order to consider a revised offer.