Camelot commercial bid 'rejected' by Lottery Commission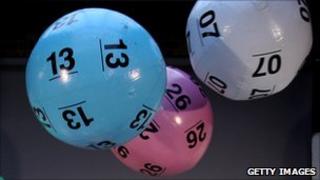 National Lottery operator Camelot is likely to be blocked from using its ticket terminals to offer extra commercial services.
The firm wanted to use the terminals to accept mobile phone top-ups and electronic bill payments.
But the National Lottery Commission said on Friday that it is "minded to refuse" Camelot's request.
Camelot described the Commission's decision, made on competition grounds, as "flawed".
The Commission, which regulates the lottery, said in a provisional ruling that Camelot's proposals could breach competition laws.
It added that those interested in the ruling could now address the issue before a final decision is made.
In its statement the Commission highlights one complaint that said using terminals for extra commercial services would breach the operating licence unless Camelot re-tendered for the lottery contract.
'Disappointed'
Camelot said: "We firmly believe that the National Lottery Commission's (NLC) preliminary position is flawed and remain absolutely confident that our proposals do not breach either European or competition law.
"We are disappointed that the NLC has failed to reach a definitive decision - instead choosing to further extend the process, which will delay the generation of additional funds for good causes, and benefits for retailers and consumers.
"We remain convinced that our detailed and carefully considered plans, based on thorough and robust legal advice, should allow us to offer commercial services through National Lottery retailers.
"We are carefully considering all of our options."
'Camelot's monopoly'
The Commission's interim ruling was welcomed by PayPoint, which already has an in-store payment and mobile top-up service.
Dominic Taylor, PayPoint's chief executive, described the ruling as a victory for local shops, adding: "It would be entirely wrong if Camelot were to be allowed to exploit its monopoly position.
"We are pleased that the National Lottery Commission has accepted the compelling arguments that the proposal would have distorted competition in the bill payments sector," he said.
Shares in PayPoint soared more than 32% by the end of trading.
"It is a very important decision and the market is reacting accordingly," said Numis Securities analyst David McCann.
The Commission said that anyone wanting to comment on its provisional decision should do so by 3 September.