Boeing 787 Dreamliner delivery could be delayed again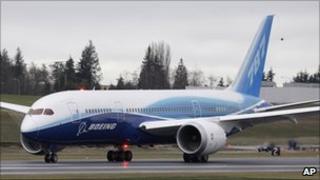 Boeing has cautioned that the delivery of its new 787 Dreamliner could slip into next year, rather than the end of this year, as planned.
The company told the BBC it still plans to deliver the aircraft this year, but this "could flip into next year".
Japan's All Nippon Airways will take the first delivery of a Dreamliner aircraft.
The project has already been delayed for more than two years, following a series of hitches.
Boeing said it had not yet made the decision to delay delivery again.
But it said recent issues had "pushed our schedule margin a bit".
Scott Fancher, general manager of the 787 Dreamliner Program, blamed the need to change instruments on the test planes and additional inspection work.
Analysts said that another possible delay was hardly unexpected.
"It's not a complete surprise that there could well be a sixth delay to the 787 service entry," said Saj Ahmad at FBE Aerospace.
"It was almost unfathomable that the flight test efforts would be completed without some sort of hiccup.
The 787 Dreamliner, being built in Seattle, is Boeing's most sophisticated plane yet. The company claims it will be lighter, faster and emit less CO2 than similar-sized planes currently flying.
It made its maiden flight in December 2009 and next week it will make its first appearance at an international airshow at Farnborough in the UK.