Volvo calls for emission openness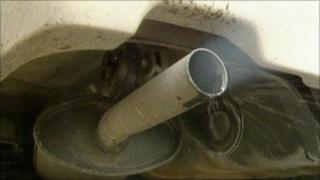 The Swedish carmaker Volvo has called for greater openness about all harmful emissions from cars.
Currently, consumers are told how much carbon dioxide CO2 a car emits.
But Volvo's UK's managing director Peter Rask told BBC News that buyers should also be told about the level of nitrogen oxide (Nox) and hydrocarbons vehicles churn out.
"We think it is time to give consumers information about all emissions," he said.
"We would like to see a new environmental label that would highlight this in a simple way."
Air quality
Some cars that emit relatively low levels of CO2 might emit very high levels of Nox or hydrocarbons, Mr Rask insists.
"This is about weighing up all the elements," he says.
Whereas CO2 emissions have a harmful effect on the environment over the long term, "the other emissions affect us today", he reasons.
"It's about air quality, so it's more tangible," Mr Rask continues, pointing out that some 50,000 premature deaths in the UK are caused by poor air quality, according to government figures.