Pensions: Proposals to relax annuity rules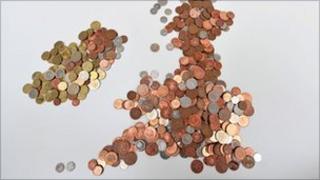 The government has outlined its plans to scrap the long-standing compulsory deadline for people buying an annuity.
Present rules state that those with a personal or company money purchase pension must buy an annuity once they hit the age of 75.
In the Budget, the government changed this age from 75 to 77, and now it has outlined plans to abolish the deadline.
An annuity is a policy that gives people a guaranteed pension income.
Anyone who has built up capital in a personal pension policy during their working life can convert it into a regular pension income for the rest of their life.
A quarter of this pension pot can be taken as a tax-free lump sum, but the rest must eventually be converted into an annuity.
Changes
The government has come under pressure from some investors who said that the deadline forces some pensioners into buying an annuity when the rates are poor.
The deadline meant people had to convert their pension pot into an income, rather than waiting for the markets to pick up and for better deals to be offered.
Some groups were also unhappy that the benefits could not be passed down to family members. If somebody dies shortly after buying their annuity, the bulk of their pension pot goes to the insurance company which provided the annuity.
In its coalition document, the government said that it would "end the rules requiring compulsory annuitisation at 75". This is particularly relevant for relatively wealthy individuals who can delay using their pension pot to buy an annuity later into retirement.
No age restriction
The government has now given more details of how it is planning to make the changes from April 2011.
These include:
no specific age deadline for buying an annuity
a cap on the amount "drawndown" annually from a pension pot by an individual without buying an annuity
a withdrawal of this cap if the individual can prove they have enough income to never run out and rely on the state.
The level set for this cap, and the minimum income required for the cap to be taken away, will be part of an eight-week consultation on the proposals.
"This consultation is a revolutionary change, putting investors in charge of their own retirement plans," said Tom McPhail, of Hargreaves Lansdown.
"The more you save for retirement, the more control and flexibility you will have and ultimately, the more you will be able to pass on to your family on death. Combined with the tax breaks available on pensions, these simple messages will be very popular with investors."
At current rates, a 65-year-old man with a £100,000 pension pot could buy an annuity that would give an annual income for the rest of his life of £6,455, Hargreaves Landown's figures show.
"To encourage people to take greater responsibility for their financial future, including in retirement, we need to give people greater flexibility over how they use the savings they have accumulated," said Mark Hoban, financial secretary to the Treasury.
"This consultation puts forward reforms that will replace outdated and overly complex pensions tax rules with a new system that gives individuals greater freedom and choice."
Greater life expectancy has been considered as part of the new proposals, but the TUC is unimpressed.
"This is only an issue for the top few per cent of the richest pensioners who do not need to worry about whether their pension pot will run out before they die," said general secretary Brendan Barber.
"There is a lot wrong with money purchase pensions and our annuities system, but changes to the age limit without a more fundamental look at the whole issue is not the way to proceed.
"The millions of pensioners who have lost out from switching indexation from RPI to CPI and the increase in VAT will wonder about the government's priorities."