Ryanair says sorry to Sir Stelios for 'Pinocchio' ads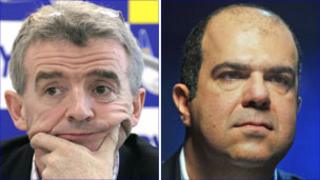 Ryanair chief Michael O'Leary has apologised "unreservedly" to Easyjet founder Sir Stelios Haji-Ioannou and paid £50,100 to settle a libel action.
Ryanair ran adverts depicting Sir Stelios as Pinocchio and suggesting he was lying about Easyjet's punctuality.
But Mr O'Leary apologised, saying Sir Stelios was not personally responsible for Easyjet not publishing weekly details of their on-time performance.
Sir Stelios will donate the settlement to his philanthropic foundation.
He dedicated the victory to all those "who have suffered verbal abuse at the hands of O'Leary".
Advertising spat
The rivalry between the two low-cost carriers has often centred on advertising.
Each airline has referred the other to the Advertising Standards Authority (ASA) over various campaigns.
On Wednesday, Ryanair was reprimanded by the ASA for misleading customers with low fare offers, after a complaint from Easyjet.
The "Pinocchio" adverts over which Sir Stelios was taking legal action were published in the Daily Telegraph and the Guardian in January and February.
They referred to him as "Easyjet's - Mr Late Again" and called on him to "stop hiding the truth" about Easyjet's on-time performance.
Ryanair has said it will not publish the adverts again and ran full page apologies in both newspapers.
"We are happy to apologise to Stelios for including his photograph and referring to him personally in the advert about Easyjet's missing weekly punctuality stats," Mr O'Leary said in court.
"Since he was not responsible for Easyjet's decision to stop publishing these on-time statistics, I think it is only fair and reasonable that we say sorry and pay him damages and his legal costs, rather than waste court time on this issue."
Sir Stelios said: "It is not very often that someone as arrogant and as powerful as O'Leary is forced to apologise to someone else in public and in writing.
"I took this legal action to protect my reputation. I am not a liar and that statement was libellous."