NTT buys South Africa's Dimension Data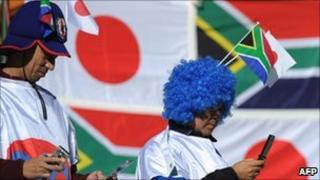 Nippon Telegraph and Telephone (NTT) says it will buy the South African IT firm Dimension Data in £2.12bn ($3.24bn) deal.
The move - the biggest purchase yet in sub-Saharan Africa by a Japanese company - will give NTT exposure to fast-growing Africa.
Dimension also provides IT-related services in the United States, Europe and Asia.
NTT will finance the acquisition through cash and debt.
Dimensions shares jumped by 20% on the Johannesburg market.
Fujio Ando, senior managing director at Chibagin Asset Management, said it was a good time for a Japanese company to invest overseas.
"NTT has to expand overseas operations since the Japanese market has almost reached saturation," he said.
"A stronger yen provides good opportunities for Japanese companies to buy overseas assets."
Core asset
NTT's president, Satoshi Miura, said Dimension would be a core asset: "Dimension Data has a strong presence in emerging markets, especially in Africa, South America and the Middle East, where NTT has a smaller presence. Its brand power is stronger than NTT's overseas. I want Dimension Data to be the core for NTT's global strategy"
Japanese companies have been slow to enter Africa, which offers huge potential growth in mobile telephony and information technology thanks to rising personal incomes, a growing middle class and improving infrastructure.
Indian and Chinese companies have been far more active on the continent.
Last month, Bharti Airtel completed a $9bn acquisition of mobile operations in 15 African countries.
Also last month, the world's biggest mobile phone company, China Mobile said it was looking to invest in Africa.