China's growth rate slows to 10.3% as lending tightens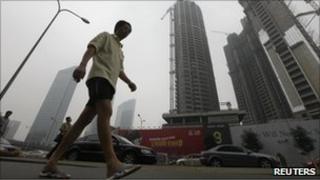 The pace of growth in the world's third-largest economy slowed in the second quarter, official figures show.
China's economy grew by 10.3% in the three months to June, down from 11.9% in the first quarter, but still well above the government's 8% target.
The slowdown comes as the impact fades of an unprecedented expansion in bank lending ordered by Beijing last year.
The government has also clamped down on property speculation and local government borrowing.
Markets surprised
The growth figure was marginally below market expectations.
However, industrial production experienced a surprisingly sharp slowdown in June, to a growth rate of 13.7%, down from 16.5% in May.
Markets had expected that number to come in at a much faster 15.4%.
The Shanghai composite index ended the day down 1.9%, underperforming other major Asian markets.
Meanwhile, consumer prices (CPI) inflation also fell in June, to 2.9% from 3.1% in May, even though markets had expected a further rise to 3.3%.
The Chinese central bank targets 3% CPI inflation, and the unexpected drop means that it is now less likely to follow other Asian central banks in raising interest rates.
'Overreach'
"This is actually good news," said Linda Yueh, fellow in economics at Oxford university. "The Chinese government has been trying to slow down the economy, to hit their target of 8% growth this year."
She said she expected the growth rate to continue to slow throughout the rest of the year.
Markets have been fretting in recent months over the risk of a sharp slowdown in the second half of the year, as the government attempts to control a possible bubble in the housing market.
With interest rates being held artificially low, and banks ordered to expand credit rapidly last year in response to the global recession, a lot of cheap money had ended up in the hands of property speculators.
Ms Yueh said that the unprecedented increase in bank lending ordered by Beijing last year risked "overreach".
"With such a large expansion of credit, there is always a risk of inefficient lending," she explained. "The government wants better quality investment. The money shouldn't be going into real estate."
Hidden lending
The authorities are targeting around $1.1tn (£720bn) of net new bank lending this year.
But a report out from the credit rating agency, Fitch, suggests that banks have been getting round this restriction by re-packaging some loans into investment products - securitising them - so that they no longer appear in their lending figures.
Fitch estimates that this means lending is 25% higher than stated in the official figures.
Earlier this month, the Chinese banking authority placed a temporary ban on this activity.
Other official Chinese figures show retail sales are growing at around 18% a year, which suggests that consumption is still rising.
That should be good news for the rest of the world, BBC Shanghai correspondent Chris Hogg says, as it will create a larger market for goods from around the world.