Business leaders say Britain should still join euro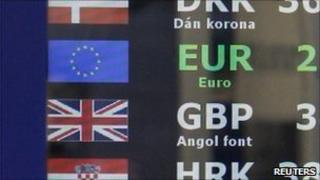 Pro-European British business leaders have told the BBC they still think the UK should join the euro in the future.
The BBC contacted senior business figures who had previously campaigned for Britain to join the euro in 2003.
Despite the debt crisis, only one of the eight to respond said the UK should not join in any foreseeable future.
Sir Bryan Nicholson, chairman of the Financial Reporting Council, said "the balance of the argument has now shifted against the UK joining the Euro".
Best interests
The flaws of maintaining a single currency between countries with different fiscal policies has been exposed by the recent sovereign debt crises in countries including Greece and Spain.
But several business leaders told the BBC they believe that joining the single currency is still in Britain's best interests.
Former chief operating officer of Ford, Sir Nick Scheele, argued that, "despite the debt problems in certain euro zone countries my belief that we should join the euro is based on the fact that 70% of our trade is with euro-based economies."
His views were echoed by the European head of the private equity firm, Kohlberg Kravis and Roberts.
Johannes Huth argued that it was "critical" for the UK to continue to assess whether it was appropriate to join the single European currency.
However none of the respondents believed the UK should join now, but when the time was right.
Mr Huth acknowledged that "structural weaknesses in the currency union have been exposed" and said these should be fixed as a first priority.
Lord Simon of Highbury, former chairman of BP argued "it is time to recognise the importance of a more integrated economic / political system in Europe".
Of the eight business leaders who responded only one had changed their mind. The rest were either undecided, or still think it is in Britain's interests to join the euro at some point in the future.
Another felt they could not offer a 'credible opinion' and only one no longer believed Britain should join.
Euro ruled out
In 2001, the new Labour government, re-elected for a second term, said it would assess its five tests for euro entry within two years.
This sparked a divisive debate, with high profile campaigns both for and against entry.
But in June 2003 the then chancellor Gordon Brown told MPs that the conditions for entry had not been met.
The Liberal Democrats have previously supported joining the euro, but agreed to rule this out within the current parliament as part of the coalition agreement.
In his emergency budget in June, the chancellor George Osborne confirmed he had scrapped the Treasury's Euro Preparations Unit and re-deployed its staff.