Bombardier predicts business jet revival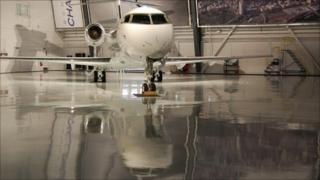 When company executives are asked to justify their business jets they will invariably resort to the old cliche that time is money.
"For most owners it's about productivity," insists Barry MacKinnon, director of market development, Bombardier Business Aircraft.
But although customers always insist their jets are there to save time and thus boost efficiency, the Canadian jet maker is not taking any chances.
The Montreal-based manufacturer is well aware that in order to sell its jets it must win over not just the minds but also the hearts of customers.
So during a recession that saw total business jet sales tumble 38% last year to just 576 aircraft worldwide, Bombardier not only axed about 4,400 jobs.
The company also "invested heavily in product as we wanted to take advantage of the recovery", Guy Hachey, Bombardier's president and chief operating officer, tells BBC News.
But perhaps equally important is the way Bombardier has revamped its customer services operations in order to massage the egos of its clients.
"It's a status thing," explains an investment manager who has Bombardier shares in his portfolio.
"As a chief executive or a rich guy, you want to turn up in the biggest and best airplane."
Emotional bond
In a low-slung, anonymous-looking building in Dorval, on the edge of Montreal's international airport, the company assembles its Challenger business jets.
In many ways, the assembly plant resembles those of UK luxury car makers Bentley and Rolls-Royce, where much of the work is carried out by skilled tradesmen rather than by robots.
The painted concrete floor is so well polished that it displays mirror images of the planes, yet the boss, Michel Ouellette, is not satisfied.
In this virtually dust-free environment, nothing short of perfection will do, insists Mr Ouellette, who is general manager of the Challenger programme, as he frets over a couple of step-ladders that have been left out in a hangar used to hand over planes to customers.
Impressing the customers is a central part of the operations here.
"It is not about one-off sales," explains Mr Ouellette. "We're creating relationships that will last for years."
So Bombardier has kitted out a library of luxuries where leather hides are draped across narrow tables, surrounded by catalogued samples in shelves and display cabinets filled with luxurious china - all of it certified by aerospace authorities to be fitted in planes.
Again, this is exactly how the upmarket car companies do it.
Wood veneer samples are left out for the clients to sniff and touch, though increasingly clients are considering granite as an alternative.
Ultra-thin layers of granite are glued on to lightweight carbon fibre sheets to ensure it is strong, yet light enough to be fitted in aircraft.
Clearly Bombardier believes it is crucial to create an emotional bond with people who buy business jets.
"They say they try to get the wife of the chief executive to spec out the plane," the investment manager grins.
Gaining ground
If the oak-panelled executive suite on the top floor of the drab Bombardier Aerospace Administrative Centre is anything to go by, this is a strategy the company is familiar with. The word is that this too was designed by a wife - that of a former Bombardier chief executive.
It seems the perfect place to discuss the company's strategy with Steve Ridolfi, president, Bombardier Business Aircraft.
"During the last two years, the recession has really hurt the business aircraft market," Mr Ridolfi acknowledges.
"We were left with a lot of cancellations, or customers wanted to reschedule."
Looking forward, however, it is clear the clouds are lifting, Mr Ridolfi insists.
"Business aviation is pretty resilient and in the long term it is a very healthy industry to be in," he says.
Strong growth
Flicking through a stack of graphs, Mr MacKinnon goes one step further, insisting Bombardier's push during the downturn has enabled it to steal a march on its rivals.
"We've been growing our market share substantially during this downturn," he insists, pointing to a chart indicating that the jet maker's market share reached 40% during the first quarter of 2010, up from 33% a year earlier.
"We've emerged as the clear market leader," he declares, hitting the paper with the back of his hand.
But more important, Mr MacKinnon continues, are the prospects for growth in the future.
True, business jet sales plunged last year, he acknowledges.
But when you look back at the last decade, he points out, you will see that 3,786 sales during the last five-year period is 38% higher than the 2,744 sales completed during the previous five years.
"The trend line is up," Mr MacKinnon cheers, eyeing a graph that surges confidently upwards and forwards like a jet taking off.
The graph suggests that global jet deliveries will more than double during the next eight years.
Increasingly global
To achieve such a steep growth rate, Bombardier is pinning its hopes on growth in countries well beyond the increasingly saturated North American market.
"Penetration rates are still very low in many parts of the world, particularly in China, so we think there is a lot of potential for growth," says Mr MacKinnon.
Mr Ridolfi agrees, pointing to how the US now accounts for about a fifth of the business jet market, compared with four-fifths just a few years ago.
"Business aviation used to be just about North America - the USA," he explains. "Five years ago, this was an 80-20% market, now it is a 20-80% market."
Business jets will increasingly be used by companies as they struggle to keep up with the pace of globalisation, a trend that in turn should result in increasing demand for such aircraft.
"The manpower needed to manufacture these aircraft and the revenues associated with them will create significant economic value," the company predicts.