Hong Kong protests: Social media users show support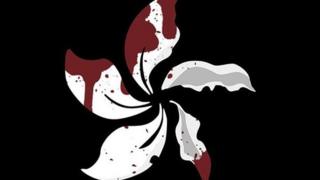 Social media users are posting pictures of wilted or bloodied bauhinia flowers to express solidarity with protesters in Hong Kong.
Platforms such as Facebook, Twitter and Instagram have been used to share news, pictures and messages of support alongside the images, as well as hashtags such as #FightForHongKong and #HongKongProtest.
Activists' attempts to storm government buildings gave way to the worst violence in the city for decades on Wednesday. Previously, days of protests had seen more than a million people take to Hong Kong's streets for predominantly peaceful demonstrations against plans which would permit extradition requests from authorities in mainland China.
Since sovereignty of the former British colony reverted to China in 1997, when the bauhinia blakeana, or Hong Kong orchid tree, was incorporated onto the territory's new flag, it has retained judicial and economic independence under the principle of "one country, two systems".
But many in Hong Kong worry the territory could be brought more decisively under China's control if the extradition bill passes.
Read full article Hong Kong protests: Social media users show support