No, these photos are not from the California wildfires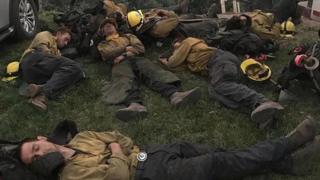 As the deadliest wildfires in California's history have spread, so too have misinformation and pictures wrongly attributed to the current blaze.
At least 42 people have died and 228 more are missing, officials say, while 300,000 others have been forced to flee their homes.
Online, social media users have coordinated missing person appeals, organised assistance for the displaced and shared information.
But in the scrabble for details, photographs of previous fires in California and elsewhere have been unwittingly muddled in with legitimate images of the ongoing fires.
Here are some of the most widely-shared - and the real stories behind them.
Thomas Fire, California - 2017
Read full article No, these photos are not from the California wildfires