Queen's Baton Relay: Marathon man targets 1500m at Glasgow 2014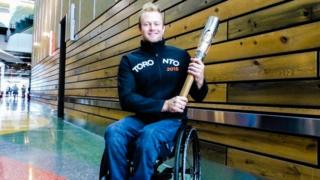 Canadian wheelchair athlete Josh Cassidy completed the 2012 Boston Marathon in a staggering time of one hour, 18 minutes and 25 seconds, shaving two seconds off a world record that had stood for eight years.
But he was devastated after failing to win a medal at the London 2012 Paralympics and in 2013 made the headlines for the wrong reasons at the London Marathon, when he was involved in a collision with women's favourite Tiki Gelana.
I caught up with Josh as the Queen's Baton toured Toronto, curious about a statement on his website: "Paralympic or Olympic? Call it what you want. I'm an athlete."
I was interested to know why he felt it so important to say this.
"In the UK things are good now. Unfortunately everywhere else, Canada included, coverage isn't the same. People don't know what's going on with Paralympic sports. On one hand you get the same respect as an Olympian, but on the other, no one can really identify or associate with it, as they don't see it."
Read full article Queen's Baton Relay: Marathon man targets 1500m at Glasgow 2014