Taiwan hair salon covers 'swastika' signs after outcry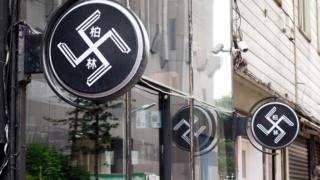 A hairdressers in Taiwan has covered up its street signs, after it was criticised for having a logo similar to the Nazi swastika, it's reported.
According to the Taiwan News website, the Berlin Hair Salon in the northern city of Hsinchu has covered its logos with a magic marker, so that only the name of the hair salon can be seen, after a week of angry comments.
The salon has also changed the logo on its Facebook page, after it received hundreds of negative comments online. It has been criticised by the region's German and Jewish communities.
The Liberty Times newspaper said that owner Hsu Chen-yang had originally defended his business, claiming the design was merely four razor blades. He said that the salon's design was created by an external designer, and denied there was any relationship between the shop's logo and historical events.
But he told the EBC broadcaster on 19 September that he had had people urinating and defecating outside the premises, and that he had taken steps to protect his business. He also said that he will speak to a designer about a new logo.
Calls to be taken down
Read full article Taiwan hair salon covers 'swastika' signs after outcry