Church protests halt Georgia cannabis law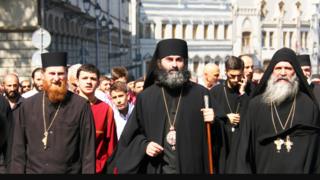 Georgia's government has halted moves to legalise medical marijuana cultivation after protests led by the country's powerful Orthodox church.
Parliament speaker Irakli Kobakhidze told reporters the authorities would not take any "hasty decisions" but rather try to get its message across to the public, the civil.ge news site reports.
"False information is being spread, so we need to pay particular attention to informing the public, and then take the decision together," he said, adding that opponents of the cannabis bill had "misled" Georgians into thinking it meant all drug restrictions would simply be dropped.
The interior ministry confirmed earlier this month that it wanted to approve the cultivation of medical cannabis strictly for export, emphasising that the sale of marijuana in Georgia itself "will remain a criminal offence", IPN news agency reported.
The row over the seemingly-innocuous bill blew up in the wake of a dramatic summer of protests over police drug raids that activists said targeted gay-friendly night clubs in the capital Tbilisi.