Hillary Clinton: What's her 2016 plan?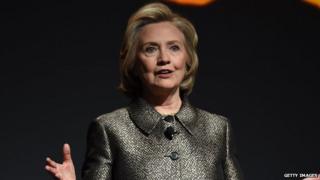 "Everyone has a plan until they get punched in the mouth."
It's a quote from boxer Mike Tyson that has become a favourite of political players in the US.
Thanks to the growing controversy arising from her use of private email during her time as secretary of state, Hillary Clinton's presidential plans are disappearing in a flurry of punches. A controlled launch of her campaign in July is on the scrap heap, and an April announcement - on the heels of press conferences and damage control - seems more likely.
Now critics on the right and the left are landing blows that can't be easily dismissed - amounting to a rather abrupt reversal of fortune.
Just a few weeks ago, Mrs Clinton appeared to be riding high. She had built up considerable goodwill over the last six years. While her primary against Mr Obama was contentious, she played the good soldier after conceding defeat.