Wuhan protests: Incinerator plan sparks mass unrest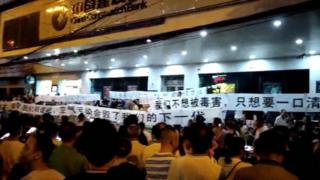 While the world's attention has been focused on the protests in Hong Kong, another Chinese city has been witnessing unrest on a scale rarely seen on the mainland.
Thousands of citizens in Wuhan, the capital city of central Hubei province, took to the streets last week for several days.
They were angry about a planned waste incineration plant they say will bring dangerous levels of pollution to their town.
But as the protests steadily grew over the week, a censorship and public security operation kicked in to try to keep a lid on the unrest.
Why are they so angry?
Wuhan desperately needs to find ways to handle the waste generated by its 10 million residents. So it has drawn up plans for a huge incinerator, to be based in the Yangluo zone of Xinzhou district, where about 300,000 people live.
Read full article Wuhan protests: Incinerator plan sparks mass unrest