Xi Jinping: Digital 'little red book' tops App Store in China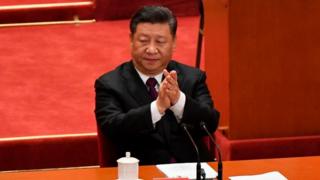 China's most popular app over the last few days has been one that's red in face and at heart.
With a scarlet logo reading "study" in Chinese, or "study Xi" as an ingenious pun, the app aims at shaping the nation's minds under Xi Jinping's presidency.
Launched on the first day of the year by the central propaganda department, members of the ruling Communist Party have been required to download and use it on a daily basis.
So have civil servants, state-owned company employees and public school teachers, even those who aren't Party members.
The app, "Study (Xi) Strong Country," started to climb up the rankings in late January and became the most downloaded free app on China's App Store on Tuesday, surpassing some phenomenally big hitters like WeChat and TikTok, known as Weixin and Douyin in the local market, according to mobile analytics firm App Annie.
Read full article Xi Jinping: Digital 'little red book' tops App Store in China