Hong Kong protest: What is mainland China hearing?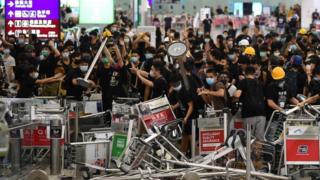 Since protests against a proposed extradition bill began, Hong Kong has drawn global attention. But on the Chinese mainland, it took a while for the story to be picked up, and people have been fed a selective and sometimes misleading narrative.
State media have dismissed the protesters as a small and violent group of separatists, enabled by foreign powers and disliked by locals. In recent days, state media have intensively distributed the most violent moments of the incident, making a hero of a mainland journalist who was beaten up at the airport.
Here's how reporting has evolved in China.
Controlled coverage
If you Google "Hong Kong" in Chinese, the first term that comes up is "Hong Kong protest", linking to coverage by both Western media such as the BBC and the New York Times and state media like CCTV.
But access to Google is blocked in China, and if you look on Baidu, the filtered search engine mostly used on the mainland, you get "Hong Kong flights back to normal" followed by "what has happened in Hong Kong recently". The results led on what China's ambassador to the UK said on the issue recently and the losses protesters have caused by paralysing the airport.
Read full article Hong Kong protest: What is mainland China hearing?