Climate change: Small army of volunteers keeping deniers off Wikipedia
By Marco Silva
Climate change disinformation specialist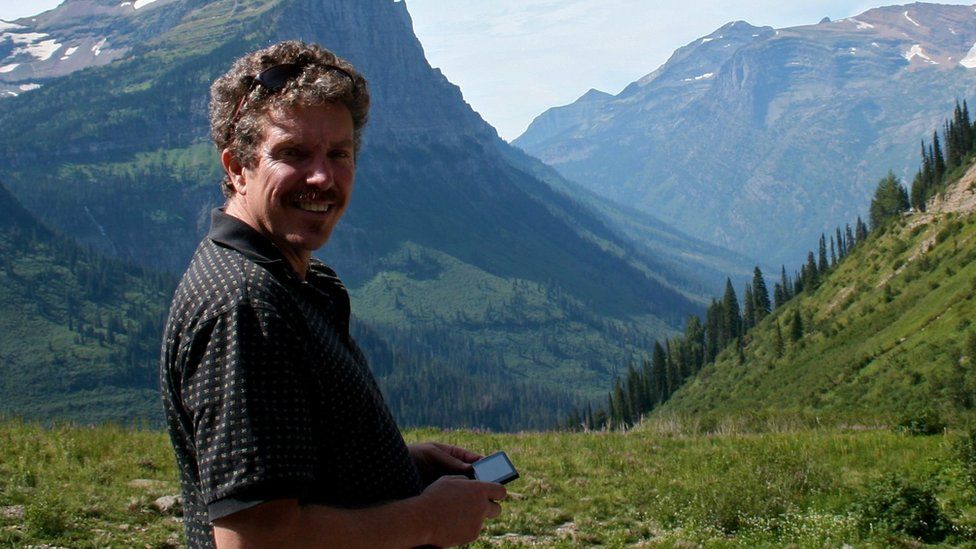 Wikipedia has for so long been plagued by climate change denial. But a group of dedicated volunteers around the world is working tirelessly to keep the deniers at bay.
David Tetta lives in northern California, in the kind of close-knit community where neighbours just wander into each other's homes - during our interview, he breaks off for a second to shoo one of them out of the room.
It was while chatting to his neighbours that David first thought of volunteering to edit Wikipedia. In 2019, around the time wildfires were raging across the state, climate change was coming up more and more often as a topic.
"Many conversations seemed to evolve into people expressing their feelings of angst and fear about the environment," he says.
"I was wondering, what kind of information are people getting?"
David was well-placed to study the subject, having worked for the US Environmental Protection Agency for more than 30 years.
He looked at the most obvious starting point for climate change information, Wikipedia - and, as he diplomatically puts it, he found "certain areas of it that could be improved".
He started small by proposing edits and discussing them with other volunteers. But he soon found himself pouring hundreds of hours into Wikipedia editing.
"You have to read through about 100 pages of scientific information to edit a sentence," he says.
"It gives you a certain sense of responsibility for making sure you're getting it right."
The point of Wikipedia is that anyone with an internet connection can edit it. But that also makes it vulnerable to manipulation, and those who deny the climate crisis know it.
They've been waging an editing war to get their views across, and subtlety is not always their forte.
On one occasion, someone added a sentence wrongly suggesting climate scientists worldwide are in the pocket of a secretive Communist organisation.
Another user peppered paragraphs with the word "alleged", wrongly suggesting that basic climate science is far less settled than you might think.
And, in a rather mischievous twist, one time the entire text of an article on climate change was turned into a hyperlink. Users clicking on any of it would immediately be taken to an article about hoaxes.
Those kinds of stunts don't last long, though.
"That might stay up for a few minutes or an hour or so," David says. "But usually, one of the editors will spot it."
David is part of a small but dedicated group of volunteers who have made it their mission to curate and protect articles about climate change on English Wikipedia. And they're not afraid to pick a fight.
"I'll send [the deniers] a note on their personal page on Wikipedia saying, 'This is vandalism, this could have consequences,'" says David. "Sometimes these people get kicked off Wikipedia."
English Wikipedia is the largest version - and, according to the editors interviewed for this piece, the one where you can find the most reliable coverage of climate change.
"We are lucky with a large editor base," says Dutch volunteer Femke Nijsse.
She's come to be regarded as one of the most influential voices within the small community of Wikipedia editors specialising in climate change.
If you have ever visited the main Wikipedia article on climate change, chances are that you read some of Femke's words - she's the user who's contributed the most to that article by far.
"I'm quite proud of my work on Wikipedia," she says.
Femke is a postdoctoral research fellow at the University of Exeter, studying the transition to green energy - so global warming is something she's been thinking about for a while.
She's been editing Wikipedia articles for seven years and in that time she's got to know what junk science looks like.
"Editors recognise all of the common climate denial myths, and most editors have a good feeling for misinformation red flags, including use of unreliable sources, of emotive words," she says.
"The most satisfying editing for me is the removal of misinformation."
Femke is clinical in her debunking of bad science, and a stickler for Wikipedia's rules.
In October, a user tried to add a sentence to the climate change article, wrongly suggesting that stopping the world from using fossil fuels would make no difference to global warming. Femke dismissed the edit, but not before explaining that such a statement would have to be backed by reliable sources.
Wikipedia doesn't have a policy vetoing climate change denial, but there are policies that insist you have to cite quality sources, which tends to weed unscientific content out.
"Wikipedia is just an uncomfortable place to be if you want to promote a point of view that goes against science," says volunteer editor Su-Laine Brodsky, a technology writer by profession. "It's much easier to be on social media, where you can say whatever you want, and not really be held to task for it."
From her home in Canada, Su-Laine has been editing Wikipedia pages for 15 years.
She started out by sharing medical information and moved on to writing about sea otters and killer whales. She only recently decided to focus on climate pages.
"I've always been interested in the environment and wildlife, and was kind of intimidated by the idea of working on climate change," she says. "I thought of climate change as a very technical and very controversial topic."
But one day she stumbled across an article on sustainable energy that was riddled with problems. "It had a lot of self-promotion - companies promoting themselves, people who are doing some kind of research promoting their pet project."
Su-Laine got stuck in and started getting rid of it.
"Wikipedians are people who fix things," she says. "You notice something that's wrong, and you just need to have enough confidence to say, 'I can make this suck a bit less.'"
Sometimes the errors are obvious. But it didn't take long for Su-Laine to realise some users were twisting the facts in subtler ways, especially in less-trafficked articles.
"When you've got an article about a climate science denier, people will try to soften that by saying so-and-so is a 'climate policy analyst'. That's a way of making the person sound more credible," she says.
According to Alex Stinson from the Wikimedia Foundation, which runs Wikipedia, climate misinformation ranges from neglect - science that's out of date - to a lack of balance, to active disinformation.
He's confident the organisation has what it takes to deal with the problem.
"All of the studies on vandalism and misinformation suggest that our natural immune system on the big language Wikipedias catches something like 97% of it rapidly," he says.
As well as human editors, the organisation also uses computer bots to fight vandalism. High-profile articles, including some about climate, also benefit from additional layers of protection - some of them can only be edited by users with a certain amount of editing experience.
But there will always be areas of the website that are harder to patrol.
"There are over 6,300,000 articles on English Wikipedia," Alex says. "Not all of those are under the same kind of universal scrutiny of the community."
For now, it is entirely down to volunteers to hold the fort.
"Wikipedia is uneven," says Su-Laine. "You have to still take it with a grain of salt."