Who is TikTok's masked vigilante?
By Sophia Smith Galer
BBC Trending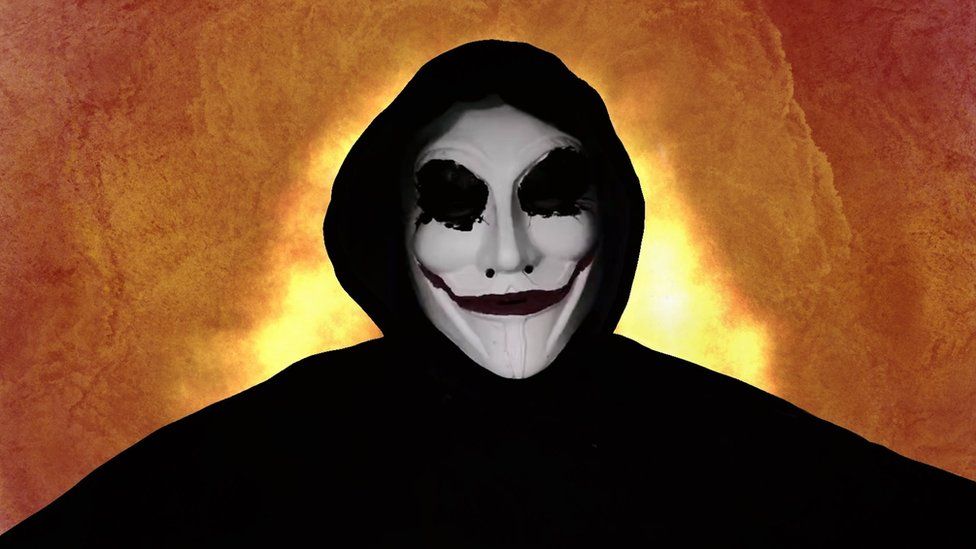 With a huge online following behind him, the Great Londini is taking on the trolls - but isn't that TikTok's job?
"We are taking social media back from the bullies, paedophiles, scammers and trolls."
The masked man in the black hoodie speaks straight to the camera with an electronically distorted voice. He looks and sounds straight out of a horror movie.
But his aim isn't to scare, that is unless you are an anonymous troll or cyber bully. Then he could be your worst nightmare.
In another of his videos, he gestures to an abusive comment left on a woman's TikTok account.
"If a stranger said this comment to your daughter, mother, sister, wife, what would you do? We say stupid game, stupid prize."
That's the catchphrase of the Great Londini, an online movement that has become so popular on TikTok that it's acquired two million followers in just a matter of months.
The game is online trolling, and the prize is that the Great Londini tracks you down.
If you're a troll you may think you can safely hide behind an anonymous account name. But Londini works on the premise that he can discover your real identity within seven to eight clicks.
If you're a child, he'll try to tell your parents or your school that you're abusing people online.
If you're an adult - maybe one who has posted a sexually threatening comment on the video of a child - then he'll really tell on you. That may mean informing your employer or tipping off your local police department.
It's moderation vigilantism, in which a platform's users take it upon themselves to try to clean up the app.
But it's something TikTok isn't so happy about. The Great Londini has had nine accounts permanently deleted, and the tenth has been suspended several times.
The platform rules Londini has been accused of breaking have varied - online harassment and bullying, even violent extremism. But Londini contests all of these.
"Until every bully racist and scammer is off this app, we're going nowhere," he says in one video.
So who is the man behind the mask?
He's known as Leo. That isn't his real name, and his identity is a well-kept secret as he regularly receives death threats. Leo occasionally takes his mask off in his TikTok lives, though, where he chats with both his fans and detractors who are up for a debate.
And in fact Leo is just the public face of a movement of volunteers with mixed military, cyber security and ethical hacking experience.
Speaking to me from an undisclosed location in the US, he tells me: "We are the anti-troll. If you're out there, right now on TikTok, you're getting trolled."
But isn't content moderation TikTok's job?
"They're not doing it," Leo says.
"We do tell TikTok everything. We send TikTok every piece of information, we report the account."
TikTok says it makes great efforts to protect users, and has introduced new features like allowing users to choose who can comment on their video and filter out certain words in their comments.
"We know there is no finish line when it comes to protecting our users, which is why we will continue to invest in our teams, products and features to ensure that TikTok is a safe place for our community," a spokesperson said.
The platform faces a mammoth task when it comes to content moderation. According to TikTok's own figures, they took down 61 million videos in the first quarter of 2021, and 91% were taken down before a single user had reported them.
Londini's mission to take on the bullies was born out of tragedy. Last year the 14-year-old autistic son of one of Leo's friends took his own life.
"My friend after a while, after he was grieving, he reached out to us and said, you know, part of the reason why he was so depressed is because he was being harassed a lot on social media."
At the request of the father, Leo and several friends tracked down the anonymous bullies who tormented his son.
"We were able to give him the information and say, you know, hey... do what you need to do with it. And he reached out to their parents and got, for the most part, he got some closure."
The group of friends didn't stop there. Under the name the Great Londini - a combination of Houdini and Linux, the operating system - they decided to carry on and concentrate on TikTok.
The Great Londini's fans are so invested in their work that they tag the account under videos and comments all the time, hoping that Leo and his team will chase down yet another troll.
But this fandom comes at a price. There is a risk that the movement may on occasion become the thing that it despises.
Some supporters are so keen that they end up becoming bullies themselves, which breaks The Great Londini's rules - as well as TikTok's Community Guidelines.
The BBC spoke to a TikTok user who had been targeted with online abuse after the Great Londini criticised her videos about Memorial Day.
Liz, a peace activist, described the holiday when the US pays tribute to men and women killed while serving in the military as "an entire holiday just dedicated to murder".
It provoked a furious response. Liz says she was deluged with abuse, much of it from users with Londini in their username who told her to kill herself, and also contacted her former employer to try to get her fired.
"It does seem hypocritical that they're an anti-bullying account, but a lot of their followers are bullying people on the platform," Liz said.
Londini expels users from their network if they break the group's rules and Leo - who served as a US marine - is somewhat contrite about what happened to Liz.
"I understand their passion, especially when it comes to veterans," he says. "But we try to lead by example. We don't harass her - I wish that woman nothing but the best."