The hypebeasts of Russia, popular at what cost?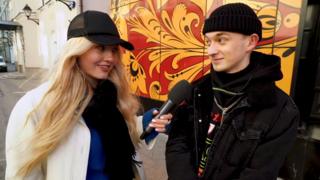 How much do your clothes cost?
That's the question Russian YouTubers are asking teenagers and twenty-somethings who are wearing branded items. These well-dressed participants are known as hypebeasts.
Channels such as Louis Vagon and Demohot produce videos with hypebeasts that generate hundreds of thousands, if not millions, of views and frequently appear on the trending section of YouTube.
The popularity of this YouTube format means that the videos attract thousands of comments, but almost all of them are negative.
In one episode of How Much Do Your Clothes Cost?, one hypebeast is seen wearing clothes worth more than half a million rubles ($7,600, £6,000) including a Balenciaga jacket and holding a Hermes bag.
The video has been viewed more than 3.6 million times and has generated more than 4,000 comments in two months.
"This video is about the wrong investment of money," says user Jonini, while bloggers Vitalk and Liza add that they would rather spend the money on other things.
"We don't understand why people spend so much money on clothes, it's better to travel," they said. The comment has been liked more than 2,000 times.
YouTube poster Valya Snezhnaya says the hypebeasts may be rich but they are wearing rags: "I see proof that you could look cheap in very expensive rags."
Praise for the hypebeasts is rare among the comments. Another YouTube user Artur Shabakaev says: "The only person dressed more or less OK is the girl wearing clothes worth 500,000 rubles. Not because of her expensive clothes but because of her taste."
"Should so much money be spent on clothes?"
One YouTuber who presents these hypebeasts for Louis Vagon is Chuma Vecherinka.
She has met people in cities like Moscow and St Petersburg wearing trainers and T-shirts costing tens of thousands of rubles, if not more. And according to data provider trading economics, the average monthly wage in Russia for October 2018 was 42,000 rubles.
Chuma told the BBC the money the hypebeasts spend on clothes is out of touch with the earnings of average people in Russia.
"There is outrage because someone is spending the same amount of money to buy a jumper that people in cities across the country earn in one to three months," she said.
"Should so much money be spent on clothes? This is the main topic that sparks negativity."
However, Chuma does acknowledge that people in Russia also know that cheap clothes that wear out easily are not such a good thing either.
"There are also those who understand that luxury clothing is now valued like paintings by artists. This is art and they are not only supporting the designers but also supporting the quality of products being made."
"An old Armani T-shirt"
It is not only young people who participate as hypebeasts.
In an appearance on YouTube channel Demohot, Ukrainian political commentator Vadim Karasev says he's wearing an "inexpensive" JW Anderson leather jacket. These jackets can cost upwards of 128,000 rubles.
Along with what he calls "an old Armani T-shirt" and a necklace for 26,000 rubles, the total cost of Vadim's outfit comes to more than a million rubles.
Media coverage around the video compared Vadim to popular Ukranian musicians.
Pop singers have also got in on the hypebeast act. Alexey Vorobyov, who represented Russia at the Eurovision Song Contest in 2011, has featured on Demohot.
In this video, which has been viewed 2.6m times in two months, he's wearing trainers which cost 10,000 rubles and a tracksuit worth 180,000 rubles.
This format appears to be evolving. There are parodies of the How Much Do Your Clothes Cost? format, which focus on people wearing outfits costing 35 rubles.
Chuma believes these videos are popular, thanks to the legacy of the Soviet Union and the general interest in today's fashion: "In Soviet years, people would queue for any sort of clothes," she says, "but now people are queuing for exclusive goods."
Calling this a new subculture and art form, Chuma says people on the street who dress "cool" have become the influencers:
"How do you dress cool? Well, you have to look at the hypebeasts."
You may also be interested in: