Journalist criticised for 'sexist' Ocasio-Cortez tweet
By Chris Bell
BBC News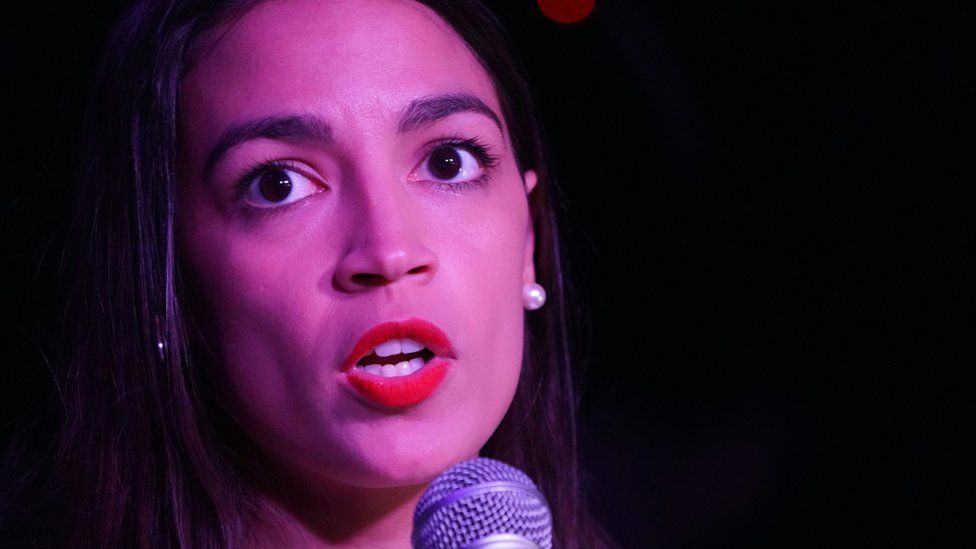 A picture of Alexandria Ocasio-Cortez wearing a suit prompted waves of controversy online on Thursday.
But conservative critics have attempted to portray the concerns of the self-described "democratic socialist" as disingenuous.
"Hill staffer sent me this pic of Ocasio-Cortez they took just now," Washington Examiner reporter Eddie Scarry wrote on Twitter, posting a picture of the incoming congresswoman from behind.
"I'll tell you something: that jacket and coat don't look like a girl who struggles."
Mr Scarry later deleted his tweet.
Mr Scarry's tweet drew thousands of responses, with social media users across the political spectrum quick to react.
Fox News broadcaster Geraldo Rivera called criticism of Ms Ocasio Cortez's clothes "creepy", while Vox correspondent Liz Plank objected to the use of the term "girl".
Don't like how some bitter obsessed Republican fashion policemen are stalking @Ocasio2018. It's creepy. Lay off or I'll start calling you out by name. The embattled GOP needs you like a toothache.

— Geraldo Rivera (@GeraldoRivera) November 16, 2018
Would you call a male member of congress a boy? Would you post a creep shot of them only to insult their appearance? You should be ashamed of yourself. https://t.co/xLCNjkTWM6

— Liz Plank (@feministabulous) November 15, 2018
Others highlighted further serious transgressions of which the politician might be accused.
EXCLUSIVE: The So-Called "Middle-Class" Alexandria Ocasio-Cortez Has Not Once Pressed Her Face Up to the Window of a Bakery, Longing for a Loaf of Bread

— Jason O. Gilbert (@gilbertjasono) November 15, 2018
Ms Ocasio-Cortez labelled Mr Scarry's criticism "misogyny".
"If I walked into Congress wearing a sack, they would laugh and take a picture of my backside" she wrote.
"If I walk in with my best sale-rack clothes, they laugh and take a picture of my backside."
After deleting the tweet, Mr Scarry said it had been misconstrued.
"I posted a tweet earlier suggesting the incoming congresswoman looked well put together - elegant even - despite suggestions she's struggled," he explained.
"The tweet was taken as something else, so I've deleted it."
You might also be interested in:
In November, Fox and Friends host Katie Pavlich said Ms Ocasio-Cortez represented "hypocrisy at its best" and had "expensive tastes for a socialist" after she wore expensive clothes for a magazine photo shoot. The congresswoman was forced to clarify she did not keep the clothes.
Thursday was the second day of Ms Ocasio-Cortez's orientation in Congress. On her first she said she was repeatedly mistaken for an intern.
"People keep giving me directions to the spouse and intern events instead of the ones for members of Congress," she tweeted.