Russian politician on 'ministerial diet' challenge loses 6kg
By Sherie Ryder and Damien Sharkov
UGC and Social News and BBC Monitoring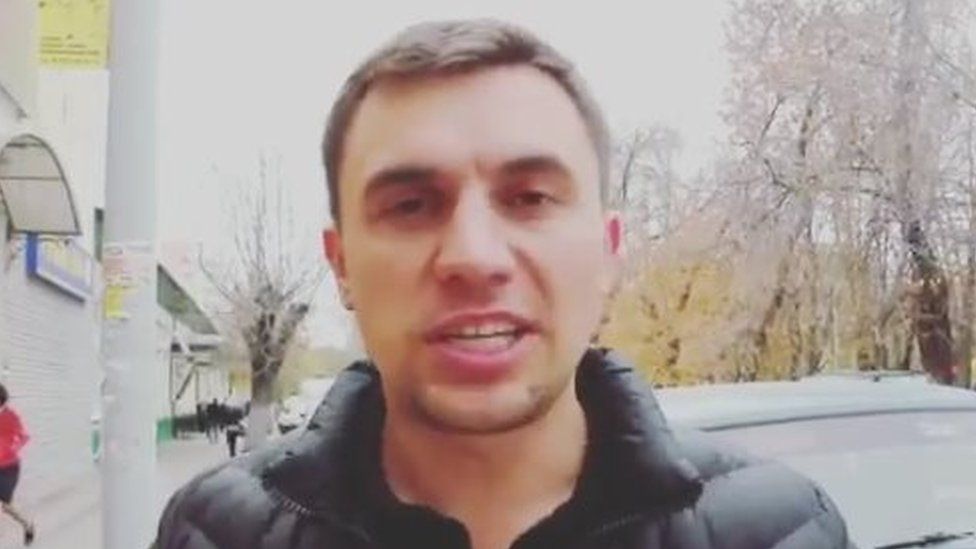 In times of austerity governments are under pressure to tighten the purse strings and the Saratov regional assembly in western Russia is no exception.
One local politician, Communist Party Deputy Nikolay Bondarenko, who uses social media to document his work, has taken on a challenge to live on 3,500 rubles (£40, or US$52) a month.
This is the amount the Saratov government suggests the average citizen would spend on food and drink, thus justifying the slight increase in the local pension of 288 rubles a month.
His confrontation about the increase with Natalya Sokolova, regional minister for social policy, has been viewed more than 850,000 times on YouTube.
He asked her to try feeding herself on such a budget, but she declined, offering to compile him a balanced menu and to recommend shops to buy discounted items.
"Macaroni costs the same everywhere," she told Bondarenko.
"On macaroni alone we'd end up in hospital," Bondarenko retorted.
His own recording of the incident has been watched 462,000 times as his popularity on social media has increased.
He posted what he bought in his first week, on an allowance of 875 rubles, and admits it has not been easy.
In the video, he said the cheapest products he bought were eggs and bread, which he did not think would be enough. He also bought vegetables and chicken, plus "macaroni, of course".
Hungry Instagram followers offered a platter of suggestions and comments.
"I have three sons and a husband. We spend 30,000 rubles a month just on food!" lamented one user, who said she only buys beef once a month.
Another suggested all ministers should go on this diet to slim down. Some praised him for his efforts, while others were sarcastic and recommended cigarettes and vodka to "survive and remain human".
Critics suggested Bondarenko was engaging in "cheap PR" or "self promotion".
By the end of the first day Bondarenko told local news site Obshtestvenoye Mnenie: "I am already feeling poorly… I am lethargic."
On day two, he told the site his "meagre" breakfast of one and a half eggs, toast and tea, was all he could afford and his lunch of chicken soup left him hungry.
At the beginning of November Bondarenko updated his Instagram followers, saying he had been preparing meals but lacked food.
One user replied saying they lived on a similar amount for two years and did not advise repeating it. Another recommended using water to make soup, thus stretching out the food.
Sceptics called his task easy, as it was "only seen on camera", and one suggested he shot the video and then ordered a pizza.
Two weeks into his diet, Bondarenko told Russian news agency RIA Novosti he had lost 2kg (4.4lb). "This was not the best week of my life" he admitted, claiming he had only groats - dried cracked wheat - left to eat.
His regime has been criticised by a dietician from Russia's Academy of Medical Sciences who said it could lead to illness due to lack of nutrients, plus extra weight gain once the diet is over.