Hong Kong Fire Service's lycra-clad mascot causes a stir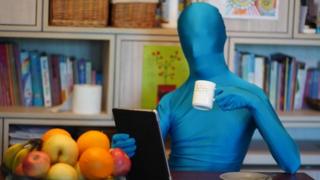 In the world of social media, we can find lots of uplifting stories about heroes and helpers, but we can also find controversy caused by almost anyone.
In Hong Kong 'Anyone' happens to be a character created for the Hong Kong Fire Service to raise safety awareness.
The mascot, clad in blue lycra from head-to-toe, was brought out in a press conference on Monday, much to the shock and amusement of the journalists in the room.
Anyone aims to convey that anybody can help in emergencies as part of an online campaign on the Fire Services Department's Facebook page.
Since it was set up at the end of October, more than 30,000 people have followed the account.
There has been mixed reaction on social media, with some people ridiculing the character.
One Facebook user asked "Is your attire fire-proof?", while another remarked the Fire Service Department's image was "good enough to do these sort of crazy things."
You may also like:
Hong Kong's main broadcaster RTHK claimed some fire bosses were unhappy with the mascot and were contemplating withdrawing him.
But Facebook users came to Anyone's defence.
"Anyone belongs to all of us," wrote one commenter. "No forced disappearance!"
Acting Senior Division Officer Wade Wong Wang-leong was reported to have reassured the public that the blue man will continue to appear as part of the Fire Service Department's social media campaigns.
The Department's first post featuring Anyone - a music video featuring a young man collapsing and the all-blue mascot stepping in to carry out CPR - has been viewed 494,000 times in five days.
Anyone also sings a song to help the public remember what they can do if they find themselves in an emergency and need to give CPR.
This is not the first time a light-hearted approach to CPR has hit the headlines. In the UK, actor and former professional footballer Vinnie Jones appeared in a video clip which came under criticism for the method used.