Gaza protest image likened to famous Delacroix painting
By Chris Bell
BBC News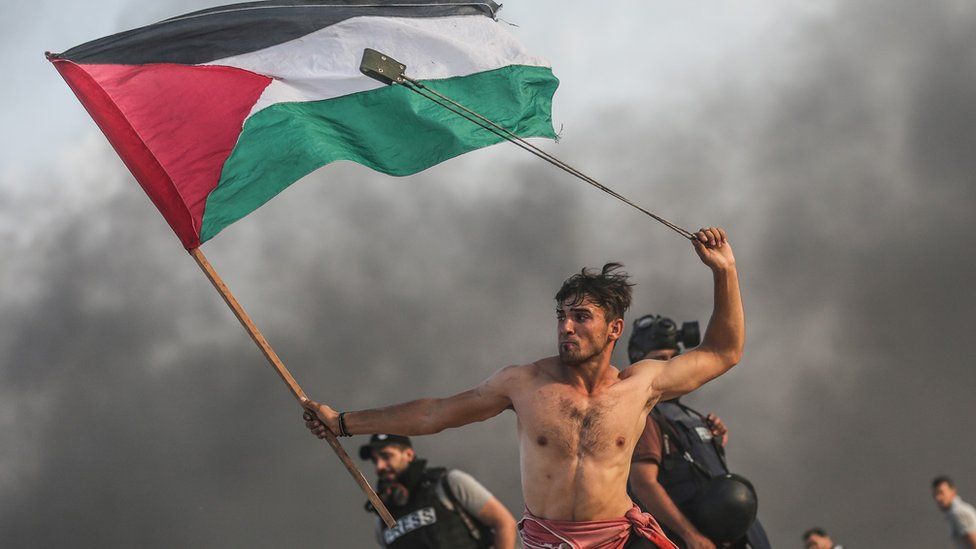 It's a picture which has spawned thousands of words online.
Captured by photojournalist Mustafa Hassona, a bare-chested Palestinian holding a large flag wields a sling over his head in Gaza on Monday.
It was snapped amid violent protests on a beach close to the border with Israel. Demonstrators burnt tyres and threw stones at Israeli forces, who responded with tear gas and live fire. Gaza's health ministry said 32 Palestinians were wounded.
Al Jazeera identified the man in the photograph as 20-year-old Aed Abu Amro.
"I participate in protests on a weekly basis, sometimes more. I didn't even know there was a photographer near me.
"The flag I was carrying is the same one I always hold in all the other protests I've attended. My friends make fun of me, saying it is easier to throw rocks without holding a flag in the other hand, but I got used to it."
You might also be interested in:
Professor Laleh Khalili, a lecturer in Middle Eastern politics at SOAS university in London, shared the image on Twitter on Tuesday.
Her tweet alone has attracted more than 30,000 retweets and 80,000 likes, while the photograph has also garnered tens of thousands of upvotes on Reddit.
But not all of the reaction has been positive.
Where some saw biblical symbolism of a David versus Goliath struggle, others viewed the stylish image as glorification of violence.
Palestinians in Gaza have been protesting weekly along the border with Israel since March. The protests, orchestrated by the territory's militant Hamas rulers, are held in support of the declared right of Palestinian refugees to return to their ancestral homes in what is now Israel.
Israel says its forces have only opened fire in self-defence or against would-be attackers trying to infiltrate into Israel under the cover of the protests.