A widower 'full of regret' offers advice to a young woman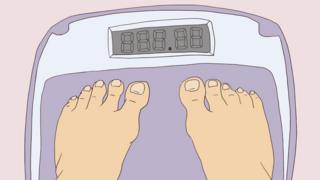 When a 21-year-old woman asked a weight loss forum for advice on how to deal with her boyfriend making comments about her appearance, one widower's response moved many to reflect on how we treat our loved ones.
The widower replied to the young woman to share how he was full of regret for not being more supportive of his late wife when she struggled with her body image.
The emotional exchange in the r/LoseIt area of Reddit has prompted many to consider the ways in which couples support one another.
In a post titled "I'm losing weight but my partner is still giving me a hard time about my appearance", the woman explained that her boyfriend often made jibes relating to her weight.
She wrote: "We were going swimming the other day and I commented that the water was cold, I was met with the response 'trust me you have more than enough insulation'".
Many people responded to offer supportive words to the woman, with one person commenting "you can do and deserve better".
A number of others suggested she leave her relationship and "run for the hills".
You may also like:
But it was the advice from an "old man" looking back on his life that really struck a chord with the Reddit community and produced an outpouring of emotional responses.
The man, who uses the username EndlessEnds, wrote: "I am an old man now, and my wife is gone. She was the most beautiful woman I have ever known, inside and out... but she often struggled to see that."
The man recalled how his wife "started dieting and working out extensively" and he said one of his biggest regrets was that he had sometimes "made her feel less than beautiful".
"It still hurts me to think of the days and months where she was eating less in the hopes that I'd love her more," he wrote. "It makes me angry at myself."
Admitting the mistakes he made, the widower offered some advice to the young woman:
"I think you should let [your boyfriend] know how this makes you feel. If he loves you, I think he would be horrified to realize what his words do to you. If he does not realize that, you need to feed your soul a better diet."
Many responded to the "beautiful post" to say it made them reflect on how they had treated their partners.
Others urged EndlessEnds to go easy on himself: "Oh man, you're bringing me to tears. Please forgive yourself."
Reddit user 'nocturne' wrote: "Your post is incredibly valuable for women whose partners disrespect them... because it helps them realize that there are people out there that care and want their partners to feel good."
The widower thanked people for their kind words, and said the interaction had been "a really sad realization" of how he had treated his wife.
"I was both the person who hurt her, and the one who failed in his duty to protect her."