Lipstick model's "hairy lip" splits opinion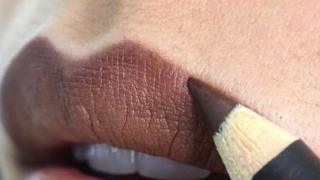 When make-up company MAC posted a photo on social media to promote one of its lipsticks, it probably didn't expect that the model's facial hair would attract quite so much attention.
The photo posted on Thursday to the site's US Instagram page is a close-up shot by make-up artist Matthew King of a model wearing one of the brand's lip colours.
Her lips are perfectly shaded and lined but look closer and you will notice that a few of her upper lip hairs are visible, something which many make-up fans were keen to praise.
"I love the fact that the facial hair was not photoshopped! It's nice to show the true face once in a while," posted one Instagram user.
"Because the reality is more women deal with facial hair than those that don't! Thank you @maccosmetics for keeping it 100 [real]," she posted.
"Thank you for not photoshopping the hairs out," commented another.
"Gorgeous! And I love that the model has a little facial hair" read a separate post.
But while many were happy to see the model's natural face, others weren't quite so sure what to make of it.
"The model has forgotten to shave her moustache," commented one Instagram user.
Another posted: "Could Mac pay for her waxing! Don't do her like that!!"
While another post read: "Those hairs on her upper lip, demand to be plucked. Threading comes before lip painting."
You may also like
'This is what plus-sized women have needed'
Los Angeles 'dine-and-dash' dater faces possible jail time
Hong Kong woman marries stranger after being 'tricked' by work
Last week, in a separate Instagram post, downy hairs were visible around another model's mouth but while there was some criticism, others applauded the brand for the realistic and unedited pictures.
"This picture is so refreshing. Pretty much everyone has this downy hair around their lips and I love seeing it not being photoshopped out. Well done, MAC," read one comment.
Mac is not the only company which is showcasing "real" beauty. Urban Decay have also been praised on Instagram for posting photos of models showing their wrinkles, freckles, spots and other imperfections.
"Shout out to those freckles! I love seeing real skin, don't get me wrong full coverage is great, but I look at this and I'm like yass queen that skin is lit!"