Fellow comedians hit out at Louis CK's stand-up return
By Patrick Evans
BBC News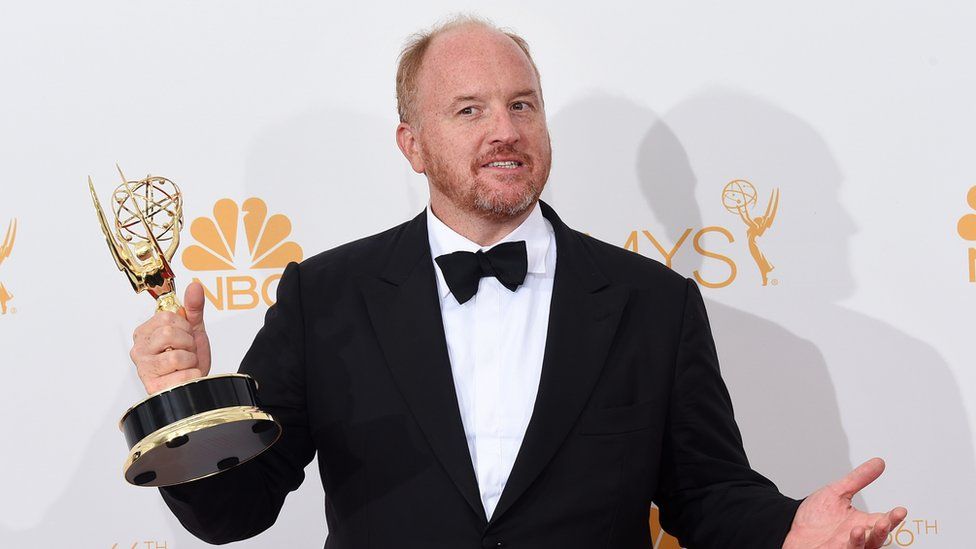 Louis CK has performed stand-up comedy for the first time since he admitted last year to several instances of sexual misconduct.
"There is nothing about this that I forgive myself for," he said and added he could hardly wrap his head around the "scope of hurt" he has caused.
On Sunday night Louis CK made an an unannounced appearance at the Comedy Cellar in Greenwich Village, New York. He did not make reference to his past behaviour.
Instead his set consisted of "typical Louis CK stuff," including racism, waitresses' tips and parades, Noam Dworman, owner of the venue, told the New York Times.
According to Mr Dworman, the comic was given a warm greeting by the audience when he took to the stage.
Talking to OS on the BBC World Service Mr Dworman conceded the manner of Louis CK's appearance did not allow the audience to decide in advance whether to see the comic's routine or not: "I can't deny that somebody who was ambushed by him has a different right to be upset about it than someone who wasn't there and is just complaining about it. "
As news of his return emerged, other comedians were critical on social media.
"Louis CK being 'banished' from stand-up comedy wasn't some kind of petty punishment, it was a workplace safety issue," tweeted stand-up Ian karmel.
Comic, writer and actress Melinda Hill said Louis CK was "spearheading the #MeTooSoon movement".
Musical comedienne Allie Goertz recalled one of her "fondest memories" had been singing a song about Louis CK right before he made a surprise appearance.
"The idea of him doing a drop-in now feels awful," she tweeted. "I believe people can grow and change, but this urgency to bring him (and others) back so soon just sends such a bad message."
You may also be interested in:
According to Mr Dworman, one audience member complained on Monday about not being told in advance of Louis CK's appearance so they could decide whether they wanted to have been there or not. Others emailed in to say they were pleased to have seen him.
"I understand some people will be upset with me," said Mr Dworman. "And I care about doing the right thing."
However, he added there could not be "a permanent life sentence on someone who does something wrong".
On Twitter, fans of Louis CK also defended his appearance: "Why Should Louis CK stop doing what he loves?" wrote one. "You can stop buying tickets and stop watching."
Although, as several replies pointed out, this was an unannounced set, therefore Louis CK was not on the bill when people bought their tickets.