Pilot daughter fulfils mother's retirement 'dream'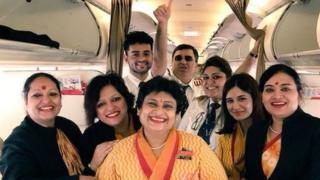 A woman, who fulfilled her air hostess mother's "dream" by piloting her final flight before retirement, says she feels "happy and overwhelmed".
Ashrrita Chinchankar was first officer on the Air India flight which brought to a close her mum Pooja's 38-year career as cabin crew.
Ashrrita told the BBC: "I am both happy and overwhelmed. Happy because people can relate to the emotion, and overwhelmed because people are celebrating the goodness."
She initially tweeted: "So happy and honoured to be able to pilot the one flight that mattered. It was my mum's dream to have me pilot her last flight as an air hostess with Air India.
"As she retires after her glorious 38 years of service, I will be carrying on with her legacy."
That post on Monday has proved popular on Twitter receiving almost 5,000 likes and 650 retweets so far.
People responded to the heartwarming tale asking to see Pooja on her final voyage, prompting the commercial pilot to post a video of passengers and staff paying tribute to her mother.
You may also like:
Air India joined in the celebrations with a tribute to this mother and daughter duo.
The story has had an uplifting effect on many people who have heard the news.
Praful Patel, the former minister for civil aviation and a current MP in the Indian government, tweeted: "Some of the most heartwarming and pleasant stories are the ones that happen in real life".
At the same time people were touched that the mum's long legacy of flying would continue through her daughter.
Others have shared their stories, like Roshni Nair who describes her mother's flying career.
And others saw the story as an example of female empowerment.
Ashrrita says her mother has no immediate plans to keep still: "She plans to travel for a couple of months, after which she will decide what she wants to do," she said. "She does love to cook.
"The best part about travelling without a fixed itinerary is not having a plan."