Chrissy Teigen breastfeeding 'twins' courts controversy
By Sherie Ryder
BBC UGC and Social News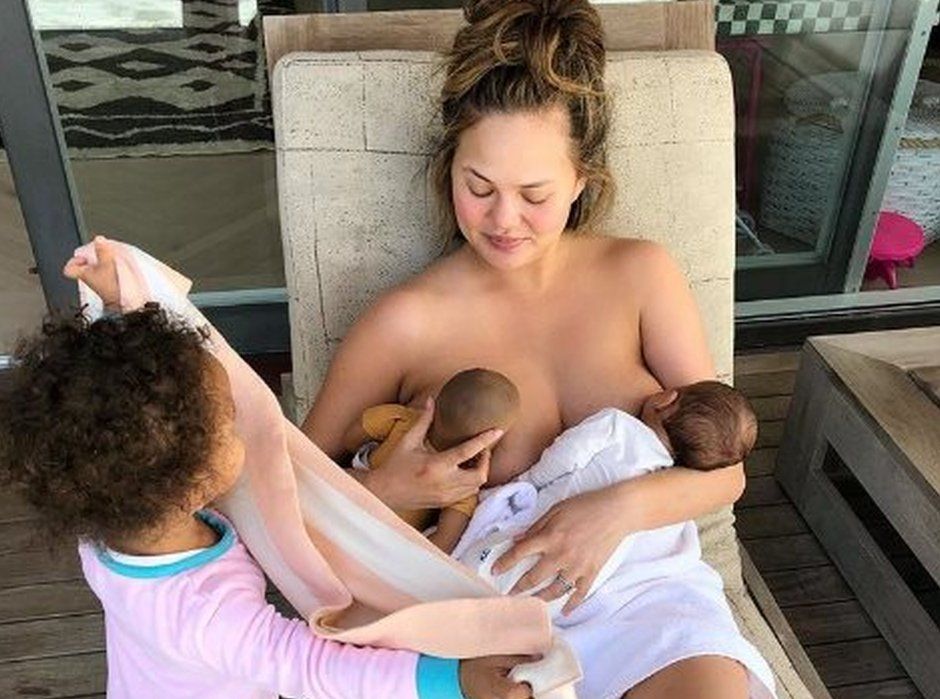 American model and actress Chrissy Teigen has found herself in the middle of a social media storm again after posting this photograph with her children.
In a widely shared Instagram photo she is seen breastfeeding her baby along with her daughter Luna's doll.
The mother-of-two captions the image: "Luna making me feed her babydoll so I guess I have twins now."
In just one day, the post was liked nearly three million times on Instagram, and 18,000 times on Twitter.
But not all responses have been positive.
Most of those who have criticised the post have been met with a withering comeback from the model.
Replying to a tweet that has since been removed, Chrissy claimed the reason her breastfeeding became a big deal was because of other people's "issues", and that feeding a baby should not be a big deal.
Twitter user Cat'o9Tails says she understands that childbirth, menstruating and breastfeeding are natural but she doesn't want to see photos of people doing it.
The model responded: "I don't care to see grainy fireworks, coachella selfies or infinity pool pics but I let people live."
Some posting on Facebook have called for the model, who is married to singer John Legend, to cover up:
Breastfeeding campaigners say they're grateful to Chrissy for sharing her photo and have started using the hashtag #normalizebreastfeeding.
Other followers on Twitter agree it shouldn't be an issue.
Good for you. Thanks for helping to take the stigma out of something that should have never been an issue anyway. 💜

— LeanneBennett (@LeanneBennett) July 8, 2018
She's not the only celebrity who has proudly posted photos of breastfeeding. In 2016, actress Liv Tyler shared "Sunday morning snuggles with my baby girl".
Line of Duty star, Thandie Newton's post of "Perfect happiness" whilst attending Latitude Festival, also inspired people to leave tips for fellow breastfeeders.
In March, the 'Ironic' Canadian singer Alanis Morissette shared a family memory on Instagram using the 'Throw back Thursday' hashtag, to reminisce.