Roseanne Barr's tweet and shelved sitcom sparks debate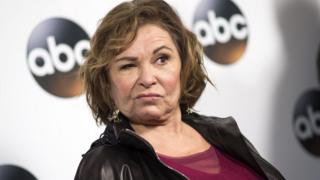 Opinion online has been divided over the decision by US TV network ABC to cancel Roseanne Barr's revived TV comedy series over her racist tweet.
In a tweet that has since been deleted by the comedian, she likened Valerie Jarrett, a former adviser to Barack Obama, to an ape.
Ms Barr later apologised for her offensive tweet. But ABC decided to cancel the reboot of her hit 90s sitcom. The show made a comeback in March this year after a 21-year hiatus.
Within 24 hours of Ms Barr's deleted tweet, there have been over two million tweets mentioning her first name.
The controversy has led to some people backing ABC's decision while others have been claiming the TV network showed double standards over free speech.
After a brief self-imposed Twitter exile, Ms Barr came back to post a number of tweets including one where she said she was, "tired of being attacked and belittled". She also retweeted messages of support.
You may be also be interested in:
Some Hollywood celebrities including Don Cheadle and Shonda Rimes condemned Ms Barr's comments and backed the decision to cancel her series.
Kumail Nanjiani, the star of "The Big Sick" and "Silicon Valley" tweeted: "I'm glad Roseanne is cancelled. The backlash to its cancellation is going to be a deafening nightmare. Nothing good has come of this entire thing."
Fellow cast members were also critical of her tweets, including Sara Gilbert, who played her daughter on the show.
Some people with right-wing views saw double standards. Supporters of President Donald Trump asked why TV host Bill Maher was not fired for comparing the president to an orangutan on his HBO show.
Others made similar comments as Bill Maher's name was trending on Twitter with more 147,000 tweets since Tuesday afternoon.
People who tweeted in defence of Ms Barr say Jimmy Kimmel, an ABC late-night TV comedian, should be held to the same standards after he appeared to mock First Lady Melania Trump's Slovenian accent.
Ms Barr is a high-profile Trump supporter. President Trump once called her to congratulate on the success of the revival of her TV show.
But not all conservatives were willing to defend Ms Barr's tweet. US commentator Tomi Lahern, said Barr was "wrong".
Fox News host Sean Hannity said her tweet was "outrageous" and that she was right to apologise.
In his Tuesday radio show, he said "comedians are always in danger because they just think they're being funny and they're not."
Hours after ABC's announcement, Ms Barr blamed Ambien, a sleeping pill, for her actions although she said she did not want to give "excuses for what I (she) did but I've done weird stuff while on ambien," in a tweet that has been deleted.
US conservative comedian Terrence K. Williams defended Ms Barr on Twitter. He said she "is not a racist" and that she "made a mistake while she was on Ambien."
The term Ambien has also been trending overnight, with people criticising Ms Barr for using the drug as a defence.