Saudi Arabia to criminalise sexual harassment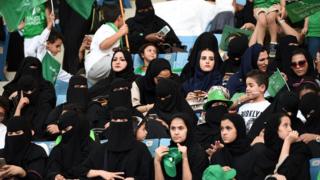 The Shura Council of Saudi Arabia, the country's formal consultative body, has approved a law to criminalise sexual harassment in the kingdom.
The aims of the measure are "fighting the crime of harassment, preventing it, punishing perpetrators and protecting victims in order to preserve the privacy, dignity and individual freedoms as guaranteed by Islamic jurisprudence and regulations in place".
It was drafted by the Interior Ministry after instructions from King Salman, according to local media reports.
However, with men and women barred from intermingling in the strictly conservative Islamic kingdom, Saudis on social media have, largely, responded with humour.
You may be also be interested in:
The law provides for penalties of up to two years in prison and fines which could amount to $26,600 (£19,641). In some cases, such as repeat offenders, the sentence could be increased to five years in prison and fines of up to $80,000.
The bill, which preserves the anonymity of alleged victims, also criminalises incitement to sexual harassment, as well as falsely reporting an incident to the authorities.
It also stipulates alleged victims cannot withdraw a complaint or fail to report an incident to the police.
The document also creates an obligation for public and private institutions to make all necessary arrangements to prevent harassment.
Saudis took to Twitter with the Arabic hashtag "anti-harassment law", using it over 29,200 times over the past few hours. The tone was mostly humorous as users tweeted self-deprecating jokes with the term "sorry girls".
"I'm sorry girls. Do unfollow me please. Women followers are no longer welcome," @fantasticSaeed tweeted.
Abdulrahman tweeted: "When they drafted the law, I remembered I don't talk to girls in the first place."
@majed_9_4 shared an animated video which shows a SWAT team storming a man's flat after he mistakenly sends a heart emoji to a friend.
Ashwaq shared a comic strip showing a glum man telling a burly cellmate he was imprisoned for sending a heart emoji to a girl, shocking the hardened criminal.
Other users celebrated the perceived progress, with some crediting Saudi Crown Prince Mohammed bin Salman with the move.
"Those who were not disciplined by their parent have a government to discipline them. The daughters of people are not toys for you to insult." @nnawafaliissa tweeted alongside pictures of the crown prince and an infographic of the proposed law.
@khaledomar1996 expected "harassment will disappear after this deterrent regulation".
However, the jokes were lost on some users, such as @tq_turki, who warned "mocking and making light of state affairs and regulations and spreading memes via social media falls under the offence of undermining public morals in the anti-cyber criminality law".
Some users were also quick to demand restrictions on the behaviour they blame for sexual harassment.
Women sharing their experiences
In February, female Muslim pilgrims used the hashtag #MosqueMeToo to share their experiences of sexual harassment during the Hajj pilgrimage and journeys to other religious sites.
Mona Elthahawy, an Egyptian-American feminist and journalist, talked about her experience of sexual assault during Hajj in 2013.
Last week in Saudi Arabia at least 11 women's rights activists were reportedly arrested in a crackdown, according to human rights groups. Most of them were women who campaigned for the right to drive.
The kingdom has announced that the ban on women driving will end next month, despite opposition from conservatives.