Royal baby: 'New mums have so much unnecessary pressure'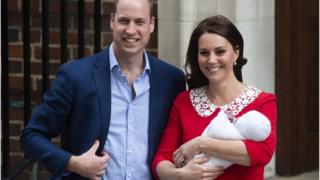 Mums have responded to pictures of the Duchess of Cambridge leaving hospital following the birth of her third child with their own recollections of giving birth.
The Duchess looked happy and relaxed as she emerged from St Mary's Hospital in Paddington, London, cradling her newborn son and waving to the assembled crowds.
On social media, other mums were quick to compare their own post-pregnancy experiences with those of the Duchess.
A forum thread discussing the birth on popular parenting website Mumsnet attracted hundreds of comments and was among the site's trending posts.
Many social media users admired the Duchess of Cambridge's fresh-faced appearance hours after giving birth. Others wondered how they might have reacted to finding the world's media gathered outside their maternity ward.
Kalpana Vaughan Wilson was one of many women to respond to a tweet from BBC Woman's Hour presenter Jane Garvey, posting a picture with daughter Clara from her hospital ward.
"I posted the pictures because, as a new mum, we have so much unnecessary pressure put on us," she told the BBC.
"I think it's important to show the realities of childbirth and motherhood so other mums don't feel so alone.
"If someone had offered me a makeover and decent clothes after giving birth I'd have jumped at the chance. Although in reality I'd probably have preferred a cuppa and some kip."
BBC correspondent Nina Warhurst was another to respond to Jane Garvey's tweet.
"I'm the one on the right in case you're wondering," she said.
Denise Cooper, from Dublin, gave birth to her fourth child, Ronan, a year ago. She posted a picture with her husband, Bruce, taken shortly after her son was born, still in her hospital bed.
"People were talking about how [Kate] looked amazing," she told the BBC.
"I suppose I felt that we all are amazing just after giving birth. She could probably have done without all the media attention and would probably have loved nothing more than to walk out in her tracksuit and hair tied up in a mum bun.
"I was proud of what I had done and thought I looked pretty ok."
Denise said the privacy she was afforded meant she "got the better deal",
"I got the privacy to walk out with our new wee bundle of joy," she said.
"I got the chance to cry in peace and not be ridiculed when my hormone levels started to drop."
You might also like:
Denise's sentiments were echoed by many of those commenting online.
"Imagine having a baby and being told to put on makeup and a dress to go be on TV hours later," said Twitter user Saskia.
But mum and Twitter user Katie said "I think people are forgetting that we're in 2018".
"We don't stay in hospital for six weeks after birth. We're up, walking about and I was made to push my baby to get my three meals and sit in the cafeteria. It's good to be up and about after birth but I will salute Kate for wearing heels."