Mo Salah: The 'Egyptian king' inspiring the Arab world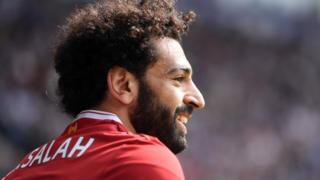 Social media users in Egypt have reacted with pride as Liverpool forward Mohamed Salah became the first Egyptian footballer to be named the Professional Footballers' Association Player of the Year.
He is only the second African footballer to win the award, after Leicester City's Algerian midfielder Riyad Mahrez in 2016.
Salah, 25, has scored a 31 Premier League goals this season this season (equalling the 38-game-season record held by Luis Suarez, Cristiano Ronaldo and Alan Shearer) with three league games still remaining.
In Egypt, his triumph was front page news and the hashtag "the legend Mohamed Salah" has been shared more than 25,000 times since the announcement as compatriots paid tribute to the player Liverpool fans christened the 'Egyptian king'.
Egyptian actress Rasha Mahdi was among many to tweet an image of Salah as a pharaoh.
Salah is a national icon in Egypt. Last year, the footballer's 95th-minute penalty against Congo secured a 2-1 victory which saw the Egyptian national team qualify for the World Cup for the first time since 1990.
Streets have been named in his honour, as well as a school in the city of Basyoun, while in January the footballer was received by Egypt's president Abdel Fattah al-Sisi.
President al-Sisi was first elected president in May 2014, close to a year after he removed his elected predecessor, the Muslim Brotherhood's Mohammed Morsi, in a coup. The Muslim Brotherhood is now banned in Egypt.
But political groups on both sides were among those to offer their congratulations. Pro-state figures and Muslim Brotherhood supporters alike were quick to signal their support.
Haytham Abokhalil, a pro-Muslim Brotherhood human rights activist, said Salah's award "gives confidence to our youth that it can be the best if it has the appropriate possibilities and opportunities".
To those sharing images of Salah's meeting with the Egyptian president, he said: "whoever publishes photos of Sisi with captain Salah are a minority who wish to remain in the sick ward".
Several official state bodies have issued statements congratulating Salah. A foreign ministry spokesman said that Salah was "a source of national pride and happiness," and "a true inspiration to the youth of Egypt and Africa".
You might also like:
Paying tribute to Salah as "the source of happiness for millions of Egyptians", the chairman of Egyptian Premier League side Zamalek, Mortada Mansour, noted that one of his predecessors had rejected the chance to sign the player in 2011.
Political activist Mahmoud Mohamed said the struggles Salah faced early in his career demonstrated his resolve.
"Mohamed [Salah] resisted and struggled," he tweeted. "He had one and two setbacks and did not give up. He has achieved the dream."
The footballer's success has resonated in other parts of the Middle East and Africa, where his name has also been trending online. Many Twitter users saw the award as a source of pride not just for Egypt but for the entire Arab world.
Saudi social media user Tariq al-Nofai shared a video interview with Salah, filmed when he was playing for Swiss side Basel.
"An interview which brings hope to the weary and those whose dreams are bigger than reality," he tweeted.
Lebanese singer Yara shared a photo of Salah carrying the award, saying "congratulations to Egypt and all Arabs".
Salah said he was "happy and proud" to win the award. "It's an honour and especially as it's voted by the players," he added.