Why are polls and Facebook ads at odds in Ireland's abortion referendum?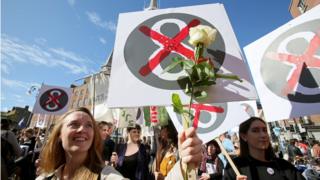 While opinion polls show a comfortable lead for the pro-choice side in an upcoming referendum on abortion in Ireland, one set of figures indicates pro-life paid adverts are gaining more traction on Facebook.
On 25 May, Ireland will vote on whether to keep the 8th amendment to the country's constitution, which states that the life of a mother and an unborn baby are equal. It's the basis for Irish laws which make abortion illegal in all but life-threatening cases.
Initial polls - keeping in mind it's still early in the campaign - point towards a win for the pro-choice side. An Ipsos MRBI poll in January showed that 56% of 1,200 people sampled were in favour of repealing the amendment (the "yes" side in the referendum), while 29% were opposed.
Other recent polls show similar leads for "yes". If the pro-choice side wins, Irish women would be able to obtain an abortion until the twelfth week of pregnancy.
---
You may also like:
---
Damian Loscher, managing director of Ipsos, says he was shocked by the poll figures, because most previous polling on the subject has shown that most Irish people are in general "against abortion on request."
He attributes the large "yes" lead to "compromisers" - those who would have previously been in favour of the amendment, but who now see voting for repeal as a compromise to allow abortion in cases where pregnancy was the result of rape, or where there is a severe risk to the mother's health. There is no current exemption for such cases under current Irish law.
Loscher does stress that "the compromisers could change their vote over the course of the campaign." And Ipsos also found a high level - 15% - of undecided voters.
And despite the poll figures, pro-life paid adverts on Facebook are getting far more engagement than those promoting the opposite side, according to one set of data.
The Transparent Referendum Initiative (TRI) is encouraging Irish voters to use crowdsourcing tools developed by social media political monitoring group Who Targets Me. They've created a database of Facebook paid adverts, including boosted posts and so-called "dark adverts" - those which are only seen by the intended audience, and generally not seen by the rest of Facebook users.
The TRI has so far collected 250 such examples, and they shared their findings with BBC Trending.
Some of the most successful pro-life posts have focused on issues such as abortions of foetuses which have tested positive for Down's syndrome in the UK. One such advert, posted by a group called Savethe8th, received nearly 6,000 reactions, many of which were "likes" or "sad" emojis. It has been shared more than 1,500 times.
Another technique used by pro-life Facebook pages has been to post videos and posts from medical professionals. One video, which has been viewed 430,000 times, is of a nurse recalling her time working in a hospital in Sydney, Australia. She tells the story of a baby being aborted at 24 weeks and the foetus being placed in a steel dish. The video was shared over 3,000 times.
Some posts were from pages outside Ireland, but which have been seen by Irish voters.
A Canadian pro-life group called Choice 42 posted a video challenging the pro-choice slogan "my body, my choice". Overall, this post was shared more than two thousand times, although it's unclear how many of those were shares came from inside the Republic of Ireland.
Craig Dwyer, the TRI's founder, says that the group's database has limitations, including the fact that it relies on voters who use the Who Targets Me crowdsourcing tool.
"Sixty-five percent of the adverts in the database are from pro-life groups, but that doesn't necessarily mean they are posting more adverts," he says. "It's not the full picture."
Researchers say a number of factors could be responsible for the disparity in the figures - including spending by pro-life groups. The TRI sample doesn't measure organic reach - that is, the vast majority of Facebook content which spreads without the use of paid adverts.
And the pro-choice side has certainly had some success on social media, particularly with fundraising efforts. According to the Irish Times, one recent pro-choice online campaign planned to raise 50,000 euros in a week. It surpassed that target in two hours.
But Richard Colwell of Red C, a polling and political analysis group, told BBC Trending, says that despite the clear polling lead, "there is a significant danger that this referendum will be lost [by the pro-choice side].
"The arguments and posts for the pro-life side are much easier to make, tend to be more emotional and are often hard-hitting. The pro-choice posts and arguments are more technical and more difficult to get across," he says.
Recent elections have shown how polls and social media engagement figures can diverge.
Perhaps the most notable recent example was the 2016 US presidential election, where huge Facebook enthusiasm could be seen for Donald Trump, despite his campaign lagging in the polls and his loss in the popular vote. Theresa Hong, who wrote Trump's Facebook posts, told the BBC last year: "Without Facebook we wouldn't have won."
Similarly, BBC Trending analysed pro-Jeremy Corbyn posts and groups on Facebook before and after the 2017 general election, and social media chatter about the Labour leader may have been an important factor in his over-performance compared to pre-election polls.
Do you have a story for us? Email BBC Trending.
More from Trending: How 'condom snorting' turned into a pro-gun argument
"Condom snorting" - a dangerous activity that involves stuffing a condom up your nose until it comes out of your mouth - has been the subject of a number of recent viral news reports. It's a years-old trend that wasn't very popular even when it first surfaced - and now, in a bizarre twist, it's now being used as an argument against young gun-control advocates in America.READ MORE
You can follow BBC Trending on Twitter @BBCtrending, and find us on Facebook. All our stories are at bbc.com/trending.