#PutYourSticksOut: Online tribute to Humboldt crash victims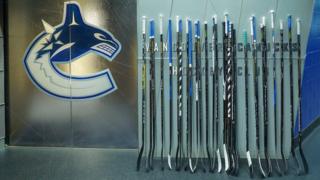 Ice hockey fans in Canada and around the world are leaving their sticks out in public view in tribute to the Humboldt Broncos.
Ten members and five support staff of the junior ice hockey team were killed when their bus crashed in Saskatchewan on Friday on the way to a semi-final play-off game.
The tragedy sparked an outpouring of grief in Humboldt and across Canada, where ice hockey is a national sport.
The online call for fans to #PutYourSticksOut has been tweeted by more than 19,000 people since Monday night. The term #humboldtstrong has also been used more than 5,000 times.
Hockey fans and stars have shared their pictures of sticks to show support for the Broncos players, their families and friends. Boston Bruins player David Backes and former goaltender Coleman Vollrath left their own personal tributes.
The response echoes that of November 2014, when cricket fans and stars posted photos of cricket bats with the accompanying hashtag #putyourbatsout as a mark of respect for Australian cricketer Philip Hughes, who was fatally struck in the neck during a domestic match.
Meanwhile on Instagram, fans have posted more than 17,000 photos.
Brian Munz, an ice hockey TV commentator, shared a text message from a friend who lives in Humboldt, on his Twitter feed, encouraging his 10,000 followers to remember the Broncos players.
His tweet helped to generate momentum for the hashtag, encouraging fans in Canada and the US to share pictures of their sticks left outside.
It's not only Canadian and American fans who are leaving their tributes. Around the world, people are putting their sticks outside their homes.
An online fundraiser have been launched to raise funds for the families of the victims. The fundraiser has so far raised more than C$5m ($3.9m, £2.7m).