Farm Bank: Founder accused of defrauding gamers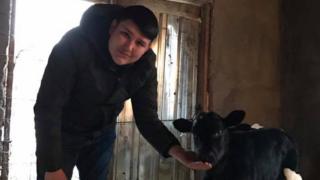 A popular mobile gaming app is making headlines in Turkey after its founder was accused by players of defrauding them of their investments.
Turkish media claimed Mehmet Aydin, the 26-year-old founder of the Farm Bank game (Ciftlik Bank in Turkish), has fled the country, with tens of thousands of people who invested in the game out of pocket.
He and his business partners came up with the game in 2016, inspired by popular social media game FarmVille. Users would buy virtual animals and farming equipment with real money.
Mr Aydin promised users their money would be invested in real livestock in different farms across the country. Products were also put up sale in some stores and show-farms to woo investors.
Users would be paid for time spent playing the game.
The story has gripped the nation with more than 100,000 Twitter users discussing Mr Aydin and his scheme since Monday.
You might also like this:
Analysts estimated about 80,000 people have invested their money into the game. According to Ahval News, the project raised more than $120m (£85m) and paid out about $100m to 62,877 investors.
According to Turkish media reports, the rest of the money was transferred to Mr Aydin and his wife's personal bank accounts. Mr Aydin sold his shares in the company in December 2017.
Turkey's financial regulators filed a complaint at the end of 2017 after users complained about broken promises.
The company said on 9 January that it had suspended accepting new users.
On 16 January Mr Aydin said investors' money could not be paid back on time as the banks refused to work with his company after the complaints.
"It looks like it [Ciftlik Bank] is an attempt to form a Ponzi scheme by cyber means," Customs Minister Bulent Tufekci said on 10 January 2018, reported news site Haberturk.
Angry investors have set up Facebook groups to discuss the latest developments and possible legal actions. Some of them claimed they took out loans to play the game.
The company's meteoric success gained many new investors but complaints on social media attracted the government's attention.
A public prosecutor's office launched an investigation into the company on charges of "aggravated fraud" and "founding a criminal organisation" on 14 March.
Three people, including Mr Aydin's wife, have been arrested so far as a part of the investigation. Warrants were issued for another 19 people as part of the investigation. Assets were seized, including more than 1,000 cattle from a dairy farm.
The Aydin family's lawyer told Hurriyet newspaper Mr Aydin fled to Uruguay and started a construction business, the paper reported on 14 March.
Turkish social media has been fascinated with his story. Mr Aydin had previously tried to make it big in rap music and tried to sell glasses on the internet which he said showed people naked, according to reports.
"No one believed when that man said he was setting up Europe's biggest cattle farm. It turns out he was right," one Twitter user said, presumably in reference to the members of the scheme.
A screen grab of a conversation among social media users was widely circulated. In the conversation one user is seen suggesting to contact the Uruguayan goalkeeper of a Turkish football team to find a solution.
"Even the cow [on the game's logo] looks nervous. How could you be fooled?" another person asked.