BBC Dad addresses fears over changes to office set-up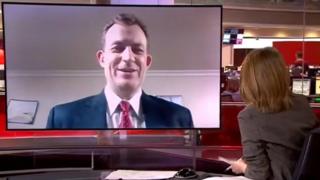 The moment Prof Robert E Kelly was interrupted by his young children during a live interview with BBC News has been viewed millions of times and has become a viral phenomenon.
Prof Kelly's home office set-up - with neat piles of books, a world map hung on the wall and an infamously unlocked door - has become an instantly recognisable sight for many.
However, when Prof Kelly did a round of interviews on Friday about the latest developments in North Korea, some on social media noticed something was amiss and were worried.
Many were concerned that the familiar backdrop was missing and lamented the fact another impromptu appearance by the professor's children was no longer possible.
Journalist Ross Kempsell suggested that the professor had repositioned his webcam so it no longer faced his office door.
The interruption won TV Moment of the Year award at the 2018 Broadcast TV Awards.
Many took to Twitter to share their disappointment that the door, which was flung open by the professor's young daughter Marion, was no longer in shot.
Some speculated the new angle of the webcam obscured a series of recently installed obstacles and safety precautions to stop any future intrusion by roaming toddlers.
Others still hoped Marion would make an appearance in her father's new set-up.
As the speculation grew, Prof Kelly took to Twitter to assure fretting users.
The professor explained he was currently travelling and broadcasting from his laptop. He confirmed that once home, his usual set-up would return.
People responded to the professor's reassurance to express their joy that the scene of the famous interview intrusion would be back on display.
While most were satisfied by the professor's response, others were keen to secure one further reassurance from Prof Kelly.