Barack Mirror? Ideas for Obamas' new Netflix show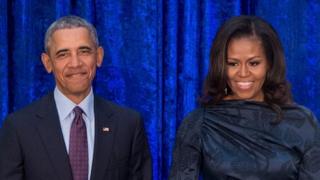 A buddy cop show with Joe Biden, an "elaborate recasting" for House of Cards, and a "shot-for-shot remake" of the Apprentice.
These are just some of the ideas suggested for former US President Barack Obama after it was reported he and his wife Michelle are in talks to produce content for Netflix.
You may also like:
The New York Times said one possible approach was for Mr Obama to moderate debates on issues such as healthcare, climate change and immigration.
But if he decides to go in a different direction, there is no shortage of ideas for his potential career on the digital streaming service, which is already gaining traction after the positive reception for his interview with David Letterman in January.
The news was well received on Reddit's subsection dedicated to television programmes, with one user joking he now expected to see Mr Obama in the third season of Netflix's horror-fantasy series Stranger Things.
Some people imagined him appearing as the Demobama - or the Dem, Obama - a play on the show's Demogorgon creature, although one person suggested he might be better suited to the role of monster-slayer in a different Netflix show.
This was not the only person who made the House of Cards connection, as a Twitter user took things a step further with the aid of Photoshop.
The obvious suggestion was for Mr Obama to join the Marvel Cinematic Universe, which has several shows on Netflix, but it was pointed out not only has Obama already made a comic-book appearance for IDW, he has also appeared in a six-page story in Marvel's Spider-Man comic.
And some suggested Mr Obama might be best suited to a role in Star Wars, after Disney recently announced plans for another series in the franchise.
Other suggestions online included an "Obama and Biden buddy cop show," a "gritty Swedish noir," and an elevator pitch for a cooking show "where he has no idea how to cook".
"It's just an hour of him trying not to burn the house down," continues the post, "while Michelle and Morgan Freeman get drunk and act as narrators with a celebrity guest trying to take control, but Obama just keeps butting in and making up presidential stories that never happened."
The idea brought the reply: "Well, Barack, you are an odd fellow but I must say; you steam a good ham," (in reference to the current vogue for odd variations on YouTube for the Steamed Ham scene from the Simpsons).
Perhaps the most unlikely of all was a pitch for the Obamas' Netflix show to be "a shot-for-shot remake of the Apprentice", but one podcaster was ready to suggest problems in the making with Donald Trump and an executive order aimed at the Federal Communications Commission.
And fans of tortured puns will be pleased to hear there were plenty to go around, with suggestions including "Orange is the New Barack", and a different take on a Charlie Brooker programme.