Fergie's Star-Spangled Banner given a 'foul' at NBA All-Star Game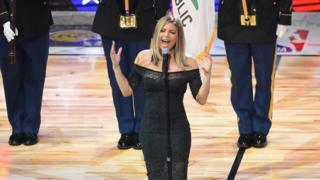 When celebrities are asked to sing the US national anthem, they are keen to make their rendition stand out.
At the NBA All-Star basketball game in Los Angeles, former Black Eyed Peas singer Fergie Duhamel performed her unique version of The Star-Spangled Banner, generating a lot of reaction on social media, and not all of it good.
ESPN journalist Jemele Hill tweeted a clip from TNT's coverage of the event, pointing out even NBA player Draymond Green could not keep a straight face.
Memes were soon circulating, comparisons to previous singers were abound and #Fergie was trending on Twitter, with nearly 92,000 posts made overnight and thousands more on Instagram.
You might also like:
Some thought she was trying to "Marilyn Monroe the Star-Spangled Banner," in reference to Monroe's public singing of 'Happy Birthday, Mr President' to John F Kennedy.
Others claimed the performance made a "great argument for auto tune".
However, sportswriter Shea Serrano was a little more subtle in his criticism.
Fergie is not the first person to come under fire after a performance, with several people referring to Roseanne Barr's public rendition of the national anthem.
The comedian could not resist comparing her performance with Fergie's by tweeting, "I think mine was better lowkey".
It's not just Roseanne and Fergie who have been slated for their singing of the anthem. Social media users have been recollecting athlete Carl Lewis' rendition at the NBA finals in 1993 and Steven Tyler's 2012 performance at the Super Bowl.
As one person pointed out, "you know it's bad" when the replies to the NBA tweet about Fergie's performance had more replies than retweets and likes combined.
However, some people came to the singer's defence, saying at least she did not forget the words or sing out of key.
Others pointed out many commenting using the term #Fergie "think they are vocal coaches."
And Lithuanian singer Simona Milinyte called for a bit of "respect"for the artist, adding "it was just a bad day" for Fergie.