Arya Mosallah: Prankster apologises for 'acid attack' style video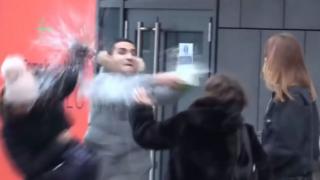 A YouTube star accused of uploading a video resembling an acid attack has apologised, but vows he will continue to post extreme prank videos and says "you've got to push boundaries to get the views."
Arya Mosallah, 17, has been criticised for uploading a video where he throws water at people on the street.
Although the video title and description did not reference acid attacks, many found the resemblance upsetting.
YouTube has since removed his channel, which had more than 650,000 subscribers.
In taking down the channel, the Google-owned network cited their policy "prohibiting content designed to harass, bully or threaten". However, Mosallah says he plans to continue posting prank videos and attempted to set up a second channel, which has also been taken offline.
'Throwing water'
The YouTuber came under fire in late January for a video titled "Throwing Water On Peoples Faces PT. 2" which was filmed in London.
In it, he approaches several people, after a brief conversation, throws a cup of water in their faces.
Many viewers linked the video with an increase in acid attacks in recent years. Assaults involving corrosive substances have more than doubled in England since 2012, and along with the rise has come a big increase in media attention.
The video was criticised by many online, as well as several newspapers, and acid attack victims including Resham Khan.
Mosallah, speaking to BBC Trending in his first interview since his original YouTube channel was taken offline, says the video was not meant to resemble an actual acid attack.
"We didn't even think of like anything like that at all," he says.
"I've never once mentioned anything about acid in the video. I could have said 'acid attack prank', but never once have I ever said anything like that. Not in the title, not in the description below or even the comments."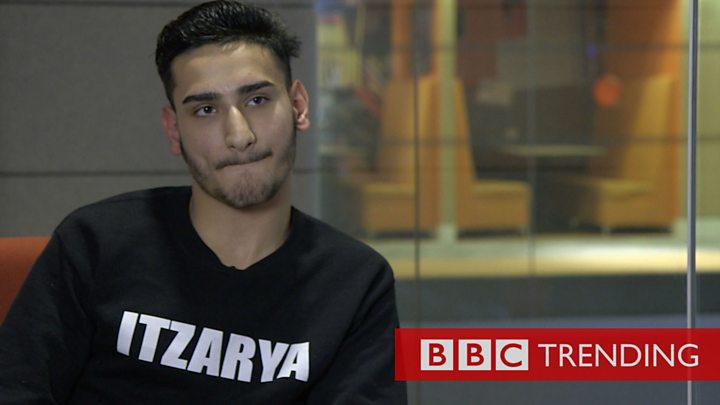 "To everyone and the acid attack victim who criticised me, I do apologise. I didn't mean for the video to be seen in that way."
Some viewers have questioned whether his videos are staged, and whether the people involved are willing participants. Mosallah refused to comment when asked about the subject, but said viewers "don't know what happens in the background."
"What if all this wasn't real? I just don't think they should jump to conclusions like that."
In a statement, London's Metropolitan Police Service said that they had been "made aware of a man carrying out stunts that may cause alarm or distress to members of the public and lead to a police response that could end as a waste of police time.
"Should police be called to any such incidents, consideration will be given to any possible offences committed and could lead to arrest(s)."
"The Met is not currently aware of any allegations being made to police and there have been no arrests. We would advise anyone who is a victim of this man's irresponsible behaviour to contact police."
"Extreme pranks"
Despite the controversy, the YouTuber says he plans to continue filming and posting "extreme pranks".
"I'll push the boundaries until I get a million views... because what YouTubers like to see is views," he told Trending. "Honestly they don't care about the dislikes or the comments, nothing like that, as long as they get the views they want that's it. They're happy. And I was happy with the views I was getting."
After first speaking to the BBC, Mosallah - who is 17, despite some news reports listing his age as 22 - created a new YouTube channel. In a new video he said he would be "re-uploading every single prank followed by new ones".
When contacted again by Trending he would not say if he was planning to re-post the "throwing water" video. But the second channel was taken offline on Monday.
In a statement, a YouTube spokesperson said the company "policies against harassment and bullying as indicated in our Community Guidelines. We review flagged content quickly, and remove inappropriate videos according to our policies."
Have a story? Email us.
More from Trending: The (almost) complete history of 'fake news'
In record time, the phrase morphed from a description of a social media phenomenon into a journalistic cliche and an angry political slur. How did the term "fake news" evolve - and what's next in the world of disinformation?...READ MORE
You can follow BBC Trending on Twitter @BBCtrending, and find us on Facebook. All our stories are at bbc.com/trending.