Rap video frosty welcome for 2018 Winter Olympic Games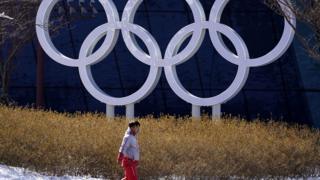 A YouTube song criticising the South Korean government over the upcoming 2018 Winter Olympics has begun an online national debate.
The Regret for Pyeonchang song was produced and uploaded to the video-sharing platform by an account called "Boy Bugs".
The song criticises the South Korean government for turning the Olympics into North Korea's propaganda tool, among other decisions around the Games.
North Korea will send a delegation, including 22 athletes and a group of cheerleaders, to take part in the Games after both nations struck a deal last month.
You might also like:
The four-minute long rap video has been watched almost a million times in the past week. More than 35,000 people liked - and 2,400 disliked - the video.
The term "Regret For Pyeongchang" has been trending on Naver and Daum, two major Korean websites, since Monday 30 January.
The song complains about the South Korean national flag being hidden, replaced by the North Korean flag. It says there is no "fairness or hope" for South Korea's women ice hockey players, who will play in a joint team with the North at the games.
The song also replaces the name of South Korean host city Pyeongchang with Pyongyang, the North Korean capital.
The song has generated mixed reactions from online users in South Korea, with some agreeing with the lyrics.
Adrien Kim, an influential Facebook user with more than 9,000 followers, commented: "I would like to see this song getting more than 100 million views. I wonder why South Korea has to cave in to everything to make North Korea feel better.
"I don't understand why South Korea's women ice hockey players have to make a sacrifice just because the South Korean government is fond of North Korea?"
A Naver user posted: "The song helps South Korean people in their 20s and 30s to gather and voice their complaints about the government's irrational behaviours."
"I agree with every single lyric of the song. It's the best song of 2018. I really want president Moon Jae-in and his supporters to listen to it," said another user.
However, not everyone agrees with the song's message.
Some users have made a petition to the South Korean government's official channel demanding action against the song's producer for defamation and spreading false rumours.
A user who signed the petition said, "there is a difference between freedom of creation and fabricating… the song talks about false information as if it was true."
The Winter Olympics will get under way in Pyeongchang on Friday 9 February.